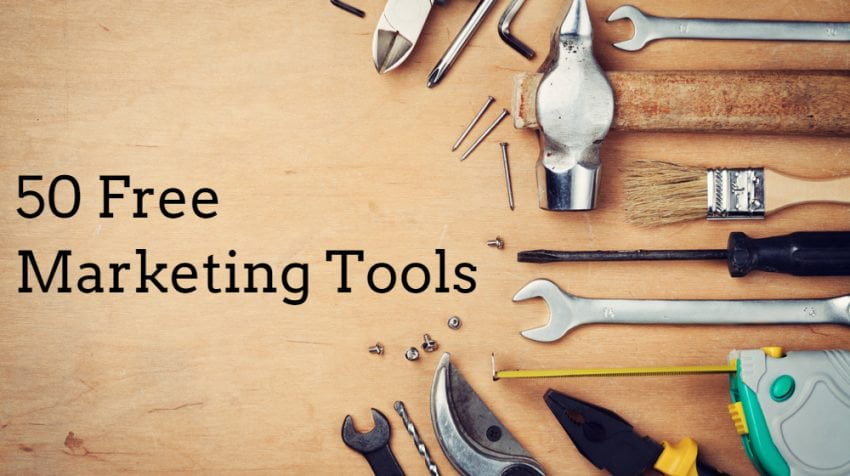 You're a small business. You need to market your products and services to establish yourself on the market and edge ahead of competitors. Though your marketing budget doesn't stretch too far. Fortunately, there is a whole host of free marketing tools that small businesses can benefit from. Here's 50!
Free Marketing Tools
Portent
Portent is a handy free marketing tool for businesses, allowing you to come up with unique and fabulously shareable ideas for content. Portent will generate some eye-catching content titles at the click of a button.
Yoast
Yoast's higher end premium services are certainly not free. But the company does offer some freemium services — including a free version of its SEO tool. Optimize your business's website to the maximum withYoast. From providing SEO software to assistance on writing meta descriptions, Yoast will provide you with the tools to improve your website.
Chattypeople
Chatbots are marketing tools no business can afford to ignore. Create a Messenger chatbot that pushes promotions to customers and operates seamlessly with Facebook by using Chattypeople. With Chattypeople you can build a Facebook bot without any coding.
YouTube
Recent years have seen a big surge in demand for video content. If your business is not yet live and active on YouTube, it's time to get some video marketing content on this hugely popular video sharing site.
Siteliner
Find duplicate content, broken links and more to improve the content on your site and your marketing channels with Siteliner.
Help a Reporter Out
Even if you're not a journalist you can use Help a Reporter Out to garner greater publicity and advertising. Get yourself quoted in magazines, newspapers and websites, to pull in some valuable publicity.
Buffer
Social media should play a role in your marketing efforts. Streamline social posting tasks by taking advantage of Buffer. This social media management tool helps small businesses increase followers and build their brand.
Facebook Audience Insights
Facebook Audience Insights is a great free marketing tool which businesses can use to view specific demographic information about their audience.
Hotjar
Knowing how well your website is performing is an essential part of modern marketing. Hotjar allows you to evaluate the performance of your website and what is needed to improve it.
Hemingway App
The Hemingway App is geared towards cleaning up content. It analyses your content and delivers simplified, color-coded alerts when you use complex and lengthy sentences, a passive voice and unnecessary adverbs.
Pablo by Buffer
Pablo by Buffer is aimed at increasing users' social media engagement by creating beautiful images designed to 'make posts pop!'
Screaming Frog
Screaming Frog is a website crawler, which allows business to crawl URLs and gather online elements designed to evaluate SEO. Users can download Screaming Frog for free.
Scraper
Don't waste valuable marketing time collecting contact information the long way. Use Scraper to extract content such as contact details from the internet and export it into an Excel spreadsheet.
Followerwonk
Dig deeper into your business's Twitter analytics, explore your social channels with greater depth and grow your social graph with the help of Followerwonk.
SurveyMonkey
SurveyMonkey is hailed as being one of the most popular free marketing tools available. Though again there are paid services. By collecting vital consumer data and information via SurveyMonkey, you'll have greater knowledge about what's working and what's not working in your marketing efforts.
Hello Bar
Hello Bar creates banners designed to draw attention to a business's principle products and services, which will help them covert visitors to their website into customers.
Shopify Logo Maker
Don't have your business's logo yet? Use the Shopify Logo Maker to create this vital marketing feature and design an eye-catching logo for your small business even if you don't have any design skills.
CoSchedule
Write headlines that will help drive traffic, shares and search results to your website and online content with CoSchedule.
Post Creator
A free basic plan is available of Post Creator, which helps users created branded social media posts with ease. You can use Post Creator from any device and to multiple social networks.
Feedly
Feedly is a marketing tool that provides businesses with the content they'll need to accelerate marketing, research and sales. With Feedly's 'voice of the crowd' feature, you can see which posts are most popular.
Optimize Book
Use Optimize Book to create quality editorial calendars that include information related to targeted audiences, topics, days to schedule, keywords, tags, and which networks to use.
Majestic
Majestic proudly asserts it is the "Planet's largest Link Index database". Take advantage of Majestic by receiving valuable in-depth back-link data.
Google Keyword Planner
If you want to improve your online presence and digital reach, it's essential you get your keywords right. The Google Keyword Planner allows you to plan Search Network campaigns with greater proficiency.
Google Alerts
It may have been around for a while, but Google Alerts is still a fabulous free marketing tool that enables businesses to review mentions of their brand name. You can also receive notification of competitor and sector name mentions by simply entering keywords into the system.
Hootsuite
Schedule social posts in advance from one easy-to-use user dashboard with Hootsuite. The free plan is perfect for those wanting to start managing multiple social networks and reach out to their audience from one place.
Optimizely
Businesses can try Optimizely for free to experiment on everything, from algorithms to design and layout, to optimize their website and online marketing efforts.
Sniply
No piece of marketing content should be published without a call-to-action, to encourage readers to take further action. Sniply is a free marketing tool that adds your call-to-action to any web page, meaning you can engage with followers through every shareable link.
Headline Analyzer
The Headline Analyzer is a free marketing tool allowing businesses to determine how much emotional marketing value there will be in a headline.
SumoMe
Generate more effective button shares, trace web traffic through heat maps and attract more customers to your mailing list with SumoMe and its suite of effective marketing tools.
Canva
Making content stand out and get noticed is an essential part of digital market and one that can be achieved with Canva. This free graphic design tool allows businesses to create stunning visual content designed to get them noticed.
PromoRepublic
With a library of more than 100,000 post visuals and templates, PromoRepublic allows users to create stunning visuals to post on social media platforms. PromoRepublic is a free-to-try social media posting tool for businesses.
Due
Due allows small businesses to track how much time they are spending on a marketing project, for free! With knowledge of marketing time constraints, you'll be able to make informed decisions and budget efficiently for your business's marketing tasks.
Edit Flow
Edit Flow is a WordPress plugin which provides businesses with a calendar, custom statuses, editorial comments, and more, to make it easier for teams to collaborate within WordPress.
Evernote
Capture, organize and share notes related to your business's marketing strategies with employees, suppliers and clients using Evernote. Users can create a free account and start organizing their business with greater efficiency.
Layout
Layout is a free Instagram app that allows users to multiple photos into one single image. The app is designed to help users create more inspiring visual content.
PicMonkey
From graphic design to collage making, photo editing to touching up images, PicMonkey help brings a business's marketing campaigns to life.
MailChimp
MailChimp is an invaluable free marketing tool to create effective and efficient email marketing campaigns. Businesses can develop their marketing strategy by connecting emails campaigns directly to their website with MailChimp.
Ubersuggest
Ubersuggest is a keyword research tool that helps businesses compile, find and refine the most relevant keywords for their brands.
Boomarang
Businesses can create captivating mini videos that loop back and forth and share them on Instagram with the free Boomerang app.
Recite This
Recite is an easy to use marketing tool which businesses can use to create quote images in no time at all. Simply type in a quote then select one of the quote images that the site generates.
Answer the Public
Answer the Public is an effective free marketing tool that allows businesses to determine questions and topics surrounding their primary keywords. With such knowledge onboard, businesses are in a better position to craft their content so they rank higher and convert a greater number of visitors.
WeVideo
Create and share memorable and inspiring videos with WeVideo. Impress, engage and give your business a boost by making professional and quality videos with WeVideo.
Tweetdeck
Tweetdeck is a social media dashboard management app that allows business to view relevant tweets and social media content more quickly.
WordPress
If you've not yet got a business website, you could seriously be missing out on customers. Create a free website with WordPress and put your business on view to a worldwide audience.
Windows Movie Maker
This free video editor is included as a feature of the Windows Essential package. Professionals can use the app to create more compelling video content.
Ad Parlour
Create free ad mockups to go on the likes of Facebook, Twitter, Pinterest and Instagram with the Ad Parlour. This useful marketing tool means you can see what your ads will look like prior to putting time, money and effort into creating campaigns.
Uprank
Uprank is an effective tool to help entrepreneurs and marketers analyze their website and build an effective marketing strategy built on the evaluation of the site.
CrowdRiff
CrowdRiff is a visual marketing platform that is specifically designed for the travel industry. Travel professionals can use Crowdriff to generate stunning visual marketing campaigns.
Mawai
The long-established saying that an image speaks a thousand words still bears some truth today. Accompanying content with visual imagery will enhance the text, making it more clickable and shareable. Mawai users can choose video clip they want and download it to use for commercial use. They must, however, must credit the video producer.
New Old Stock
If you're looking for inspiring and copyright free images to enhance the content of your marketing campaigns, head to New Old Stock and add some vintage spice into your visual content.
Have we missed any of your favorites? If you've got any free marketing tools for small businesses to add to the list, please let us know!
["Source-smallbiztrends"]