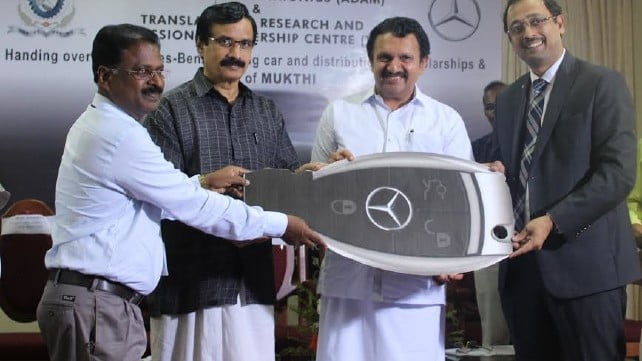 Mercedes-Benz, a popular luxury automaker in the country has been known to undertake various social engagement programs. This time around, the German automaker has donated a new C-Class Advanced Mechatronics course, which is conducted at the government engineering college Barton Hill, Thiruvananthapuram, Kerala. Based on 'Mercedes for India' philosophy, the company aims at contributing back to the society through various social initiatives.
The newly donated C-Class will be a vital addition to the learning and training process of students at the Government Engineering College, Trivandrum and will ensure continued successful running of the course. The continuous exchange of knowledge from a global automotive conglomerate like Mercedes-Benz, allows students to learn key competencies which are mandatory to adapt to today's fast changing industrial requirements and scale-up their employability in the dynamic automobile market in India.
Speaking about the initiative, Roland Folger, Managing Director and CEO, Mercedes-Benz India, said, "This unique course has grown in its relevance over the years and its popularity even after a decade of its introduction, underlines the resounding success of Advanced Mechatronics and the thought behind introducing it in India. We are confident; the students graduating from the Advanced Diploma in Automotive Mechatronics course will continue to remain in high demand in the automotive industry not only in India, but also overseas, owing to their vast practical knowledge and soft skills."
Along with the supply of technical equipment, the new C-Class will help the students to enhance their learning, further develop their technical skills and get acquainted with the latest generation automobile technology as seen in the new C-Class. The Advance Diploma in Automotive Mechatronics course at the Barton College includes a comprehensive curriculum for engineering students on sophisticated Mercedes-Benz cars enhancing their skill sets in servicing ultramodern luxury cars.
[source;carwale]