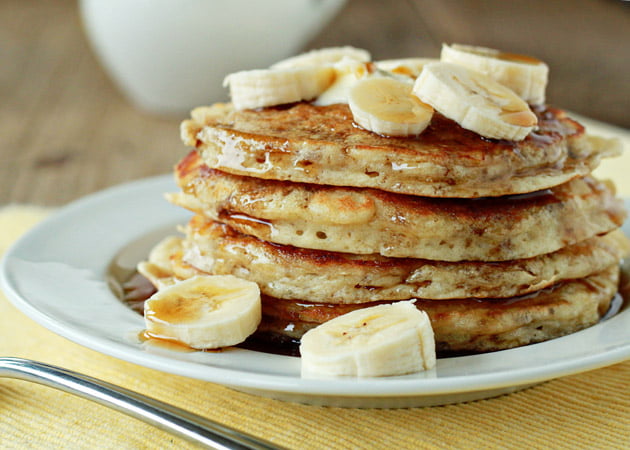 We are back on the breakfast menu! And why should we not? Breakfast has to be the most important and nutritious meal to kickstart your day with. Today we bring you the recipe of banana pancakes. The basic pancakes are very easy and simple to do and while I have added banana here, (mainly because I had some over-ripe bananas lying at home), you can play with other flavours.
Try apple and cinnamon or add berries in the mix. Alternatively, you can add nuts to it. The beauty of this recipe is that you can make the pancake mix in advance and store it in a jar and make the pancakes as and when you want to.
I have added eggs to the recipe, but I have also tried an eggless version for a Gujarati friend who's strictly vegetarian, and they turned out to be as good. You lose on a little bit of fluffiness but it's only marginal. So if eggs are not your thing, just leave them out!
Banana Pancakes
Banana Pancakes (Source: Ashima Goyal Siraj)
Preparation: 10 mins| Cooking: 2-3 mins for each| Makes ~20
Ingredients
200 gms all-purpose flour (maida)
1 tbsp baking powder
½ tsp salt
½ tsp baking soda
15 gms castor sugar
1 egg
250 ml skimmed milk
1 tbsp melted butter
2 very ripe bananas, mashed
Extra bananas (2-3) for topping
Maple syrup
Olive oil for cooking
Method
* Mix the flour, baking powder, baking soda, salt and sugar to make the pancake mix. You can even store it in an air-tight jar and use it to make pancakes later.
* In a mixing bowl, whisk together the egg, milk and melted butter.
* Add to it the pancake mix and fold in together
* Add the mashed bananas and mix well
* Heat a flat pan with little oil
* Drop spoonful of batter onto the flat pan. It will spread a little on its own, you don't need to spread it further. When bubbles appear on the surface of the pancake, flip them over and cook till they are golden brown on both sides.
* Repeat for the rest of the batter. I have a bigger pan so I make around 4 pancakes in one go.
* Serve with fresh banana slices, drizzled with maple syrup.
Happy Breakfast!
["source-indianexpress"]