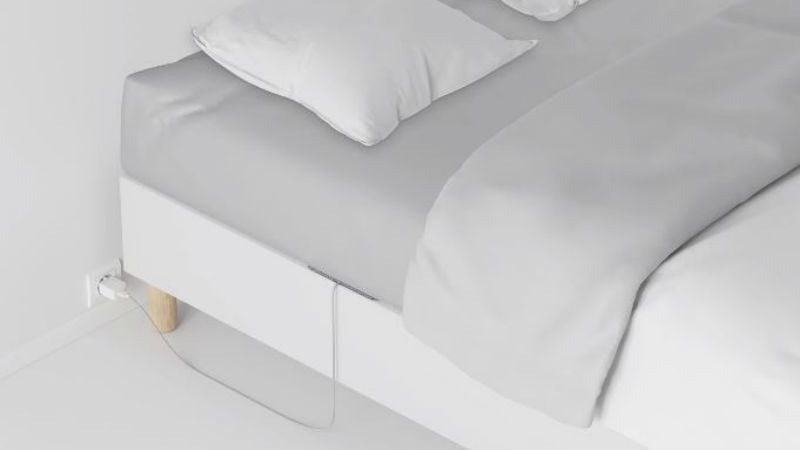 HIGHLIGHTS
Nokia Sleep will go on sale in February
It comes with a price tag of $99.95
Nokia Health Mate app has also received Amazon Alexa support
While notebooks and TVs have been the primary mainstay of CES 2018, Nokia has ultimately stepped in with its unique heath product that it called Nokia Sleep. As its name suggests, the new device is a mattress pad that has an "advanced" sensor to help you monitor your sleep cycles as well as control the lights and thermostats available in your room – all without getting out of bed. The new Wi-Fi-enabled pad works with Nokia's Health Mate app and also has an integration with automation app IFTTT. It will start shipping in the first quarter of this year with a price tag of $99.95 (approximately Rs. 6,370).
Nokia believes sleep quality is a key factor in maintaining a healthy lifestyle, and citing a research by the National Institutes of Health, the company highlights that the sleep deficiency can increase the risk of a heart or kidney disease, high blood pressure, diabetes, and stroke. All this has perhaps influenced the Finnish giant to build the Nokia Sleep. The sleep-tracking pad offers sleep cycle analysis with light, deep, and rapid-eye-movement phases as well as snore tracking. It also provides sleep scores directly to the connected Health Mate app to encourage users to uplift their sleep habits. The proprietary app additionally gives data history, personalised advice, and various coaching programmes to let users improve their sleep patterns.
The Nokia Sleep is designed to be positioned on the side of the bed, at chest level, to distinguish movements and vital signs between two persons, as reported by The Verge. The pad also reportedly uses algorithms that are being trained against clinical data from polysomnography tests.
Alongside providing the way to monitor sleep, the Nokia Sleep has IFTTT home automation capabilities that can be leveraged to control smart devices in your bedroom. Nokia has also partnered with Amazon to add support for its Alexa voice assistant to the Health Mate app. This support enables you to have a track record of your health and fitness just by using your own voice. There is a new Alexa Skill for the Health Mate app to share insights around tracking activity, sleep, and weight through voice commands. Moreover, the Nokia Health Mate app Alexa Skill is already available in beta for early testers.
It is worth noting here that Nokia acquired fitness device manufacturer Withings back in 2016. Though the acquisition already brought a bunch of fitness tracking devices, Nokia has, for the first time, built its own health offering that comes in the form of the Nokia Sleep.
At the same CES convention, US-based Sleep Number unveiled a smart bed that automatically adjusts its height to prevent users from snoring and enable a sound sleep. The bed uses the two air chambers inside its mattress to contour each partner's side, back and stomach profiles. Further, it is equipped with an automatic snore detection and adjustment hardware.
In last May, Apple also hinted its interest towards improving sleep habits by acquiring the company behind sleep monitoring device called Beddit. The device comes as a thin sensor that is designed to be placed under the sheet on the top of a mattress to collect heart rate and respiratory data.
["Source-ndtv"]