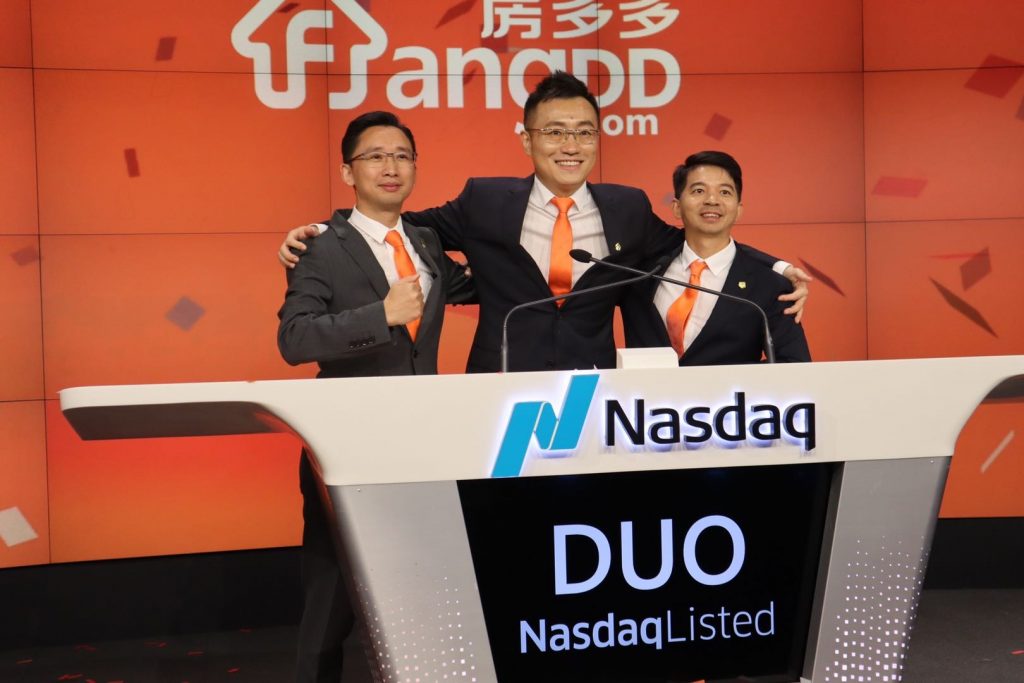 NEW YORK — Fangdd Network Group, a leading Chinese online property technology company, listed its initial public offering (IPO) on the Nasdaq Global Market on Friday under the ticker symbol DUO.
The deal size of the IPO contained 6 million American Depositary Shares (ADSs) at a price of 13 U.S. dollars apiece, each representing 25 Class A ordinary shares, the e-realtor said in a statement on Friday.
Shares of Fangdd extended gains during morning session and settled at its IPO price of 13 dollars around market close.
By capitalizing on mobile internet, cloud and big data, the real estate e-platform said it operates on a so-called SaaS, or Software-as-a-Service, business model, which offers property agents key business resources, such as customers, property listings, capital and transaction data.
"We believe that making China's property agents enjoy the bonus of high-tech and (big) data will be a key approach to boost the efficiency of the real estate service industry," Duan Yi, CEO of Fangdd, told Xinhua on Friday.
Founded in 2011, the Shenzhen-based company began to turn profitable in 2017, with its primary revenues generated from sharing base commission fees with property agents who make transactions in its marketplace, according to its latest prospectus.
The online housing platform saw its revenue climbed to 233.7 million dollars in the six months ended June 30, an upswing of 55.4 percent from that of the six months ended June 30, 2018.
Fangdd has registered over 45 percent of the approximately 2 million real estate agents in China as of Dec. 31, 2018, and thus became the largest online real estate marketplace domestically, according to business consultancy Frost & Sullivan.
The e-platform also owns one of the largest property databases in China. As of June 30, Fangdd had 131 million properties in its database, covering homes listed for sale or for rent as well as those not currently on the market and verified through a comprehensive internal process, said its prospectus.
"More and more agents are getting used to opening online shops to make transactions," Duan said. "As more (property) resources and agents' services are integrated online, more transactions will ensue, which I believe will be a future trend (for the industry)."
Although China's real estate industry is featured with intense competition and high property prices, Duan noted that the authorities' tight regulation on the property market has prohibited prices from rising too rapidly, and expressed confidence on market demand.
"The government's regulation is aimed at ensuring stable and healthy development of the property sector," the CEO said. "When housing prices do not rise too fast, the whole property service industry would have big growth (space) and the demand for agents would also grow."
According to Frost & Sullivan, over 38 percent of all primary and secondary residential property transactions in China were facilitated by real estate agents in 2018. That percentage is expected to reach over 49 percent in 2023.
Such an expectation is based on the fact that China's residential property market is projected to continue to grow.
The total market size, including property transactions and related services, is expected to reach 33.4 trillion yuan (or about 4.73 trillion dollars) in 2023, rising at a compound annual growth rate of 9.2 percent from 2018, according to the consultancy.
["source=xinhuanet"]