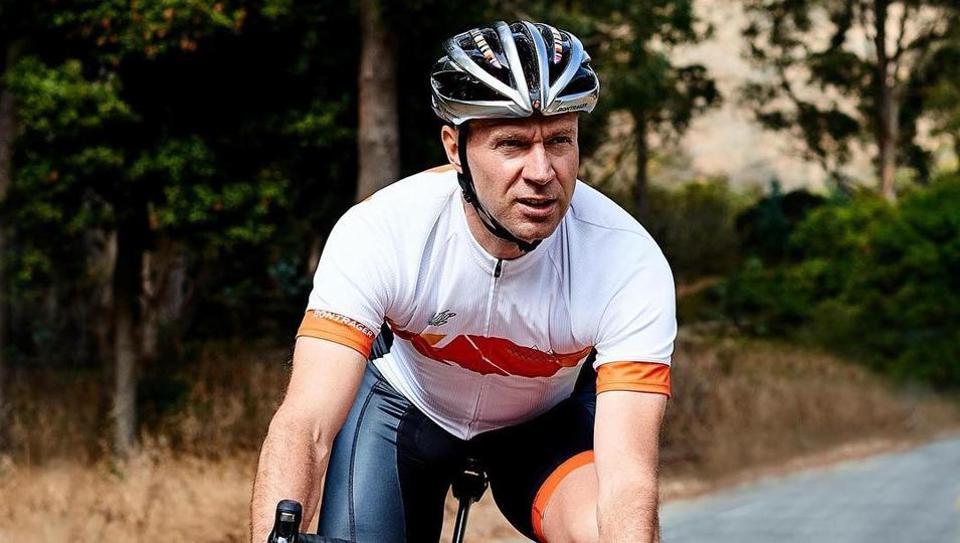 During his professional career, it is estimated that German road bicycle racer Jens Voigt (born September 17, 1971) rode a total of 8,50,000 km. He has won the Critérium International five times, a tied record, and won the yellow jersey twice in individual stages of the Tour de France in 2001 and 2006.
Voigt, who stays in Berlin with his wife Stephanie and six children, was in Delhi recently for the India launch of Trek Bicycle, whose brand ambassador he is.
The professional cyclist tells us why he feels cycling is better than running, how he sometimes eats 5,000 calories but ends up burning 7,000, and how he manages pain.
How is cycling better than running or gymming for regular people?
The big difference between cycling and running is that cycling is less intense, less demanding on the body. While running, your body has to go through a lot of pounding. With each step, your body weight has to be slowed down, and then re-accelerate with your legs, and your feet carry all the weight and pressure.
In cycling, your body weight is supported by the seat and, therefore, there is less strain on your joints, ligaments and muscles. While you ride a bike at a normal and easy speed, your heartbeat is slower than when you run. But if you want to run with a lower heart rate, your running speed becomes frustratingly slow.
But why would we want to do sports with a lower heart rate?
Because with a lower heart rate (100–140 bpm), your body still works in the fat burning metabolism and when your heart rate is higher, your body uses the glycogen which is burnt as a resource for energy. Clearly we prefer to burn fat, right?
If you just want to stay fit and healthy, cycling is the best form of exercise. It is the most convenient solution. Of course, the best solution would be to combine all three elements, because any sport you do is a good thing.
What are the precautions to be taken when cycling?
One very important subject is safety. Always wear a helmet. Always! You only have one head, so you better protect this one, right? Use a helmet specially designed for bikes, and also switch on the lights during the day. They will increase your visibility and therefore, your safety. Whenever possible, go in groups or with friends. It is more fun together and also safer.
Hydration is important because India is a warm country. Take water bottles with you. You can attach one or two bottle cages to the frame of your bike so you don't have to carry a backpack or stuff the bottles inside the pockets of your jersey. And stop at shops to get more water when you run out of it during a ride. You could also think of sunscreen to protect the parts of your body exposed to the sun.
If you don't train for the Tour de France, then enjoy and go easy. Take your partner or your kids with you to make it a family trip.
What sort of diet should people in India follow when they take up cycling?
Stay away from too much sugar and fat. It helps to avoid all sugared drinks like cola. They contain an insane amount of simple sugar and that should not be a part of your regular diet. Try to drink more water instead. Maybe switch one meal per day with a big and healthy salad. They taste good when done properly and contain less carbohydrates than a full meal. Try to cut down on ice cream and cookies and chocolates. I am absolutely not saying to not eat them at all, but we should consider them as "sometimes food"; you can have them, but just sometimes.
An apple or a mango or a banana is a natural product and much better and healthier for you. One simple fact I learnt early in my life is this — we get stronger and faster in the two hours we exercise, but we get leaner in the remaining 22 hours of the day! What it means is that exercising will help us stay fit and lean, but we should not ruin the effects of exercising by going to the next fast food restaurant right after training and having an extra-large cola or extra sugar in our coffee.
Jens during the India launch of Trek Bicycle in Delhi, whose brand ambassador he is.
Staying fit and healthy is a project that needs to be thought about all day long. It is not only the exercise, but a whole lifestyle. And again, include your family. Tell your partner that you want to change a few things to have a happier and healthier life. Tell your partner that you would love to do it together, that you want your partner's help with this. Surely, your partner will feel appreciated that you want them to be part of this. Together, it is easier to find and maintain the right rhythm in life and the right balance in your diet.
What was the diet you followed when training professionally, like for the Tour De France?
You'll be surprised if you got to know how little we eat sometimes. During the holiday season (November-December), I would be home and eat a lot, and would feel fat. When I would measure by fat percentage, it would show I would have 7% body fat.
On the other hand, when I would come out of the Tour De France, I would only have 4% body fat. If a doctor saw me without knowing what I did, he would say, "This person is about to go anorexic. He is too skinny and this is not healthy!" But that's just the way the sport is—every kg you carry around makes it harder for you in the mountains.
Jens during a ride in Bangkok. (Jens Voigt Instagram)
For breakfast, we would have rice and pasta. During a shorter stage, you might feel that muesli and cereal would be enough. But if it's a longer stage, you would have rice for the extra carbs. And then in your jersey pockets, you would have food which gives you quick energy that is digested swiftly by the body. Afterwards, we would have a protein recovery shake and other drink with just vitamins and minerals in it.
We would have a sandwich on the way to the hotel and then dinner later on. There are days when we have 5,000-6,000 calories in a day but we'll be burning 7,000-8,000 due to our riding schedule. So there would still be a deficit.
Your company called Shut Up Legs seems to be named after your philosophy of tackling pain. How did you manage the pain and exhaustion during your races and training?
It was my father who started Shut Up Legs because he used to tell me the mind should control the body and not the other way around. Once we had gone somewhere and I told him, "Dad I'm hungry, dad I'm hungry!" and he said, "Son, the mind has to control the body and not the other way round."
So, it's actually him who invented it. I just put it into three short words.
But you cannot use it all the time. You have to use it for special moments. You really have to mean it when you say it; you have to order your body. But you can only use it for special moments, otherwise your body will say, "Naah, I don't believe him!"
["source=hindustantimes"]