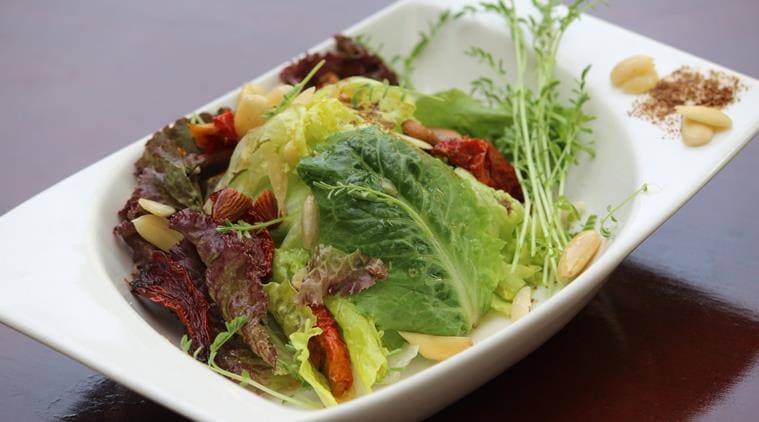 Don't you agree that eating salads is the most convenient way to work in good health into your life? A couple of servings of vegetables and fruits and you are all set. No, don't scrunch your face yet. If you aren't a big fan, it probably means that you haven't been making your salad right. Also, look at it objectivly, it keeps you fit from the inside and on days when you are too tied up with work or plain lazy, it saves you a lot of time in the kitchen. The best part is that you can enjoy it with a glass of wine too!
We got in touch with Amit Dash, executive chef at Courtyard by Marriott, Gurgaon and he shared this amazing Almond and Oven Dried Tomato Salad recipe with us.
Serves: One
Ingredients
2 – Tomato
1 clove – Garlic (peeled)
30g – Almond
3g – Dried oregano
150g – Assorted lettuce
Salt to taste
10ml – Olive oil
1 – Lime
3g – Cracked black pepper
Method
* Pre heat the oven to 200 degree Celsius.
* Crush garlic and cut the tomato into wedges.
* Rub the tomato wedges with garlic, oregano, olive oil and salt.
* Arrange neatly on a roasting pan and roast in the oven till dry.
* Blanch the almonds and peel off the skin.
* Prepare a dressing with lime, cracked black pepper, salt and olive oil.
* In a salad bowl, mix the oven dried tomato and lettuce. Drizzle little bit of the dressing and mix gently.
* Neatly arrange in a salad plate with blanched almonds.
* Drizzle the left over dressing over the salad as desired.
* Serve.
["source-indianexpress"]