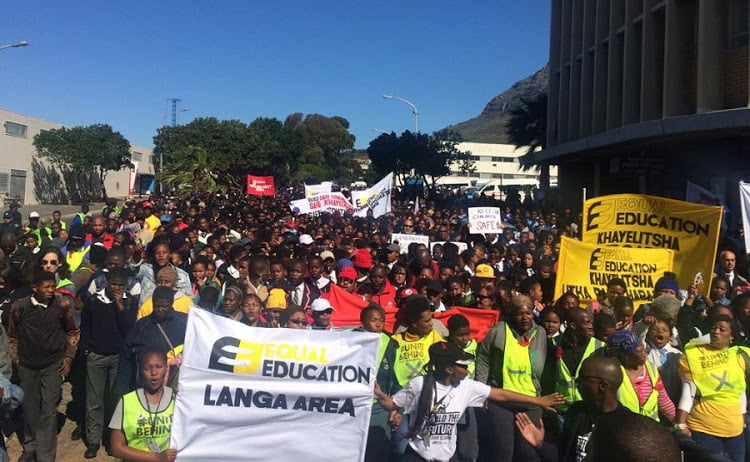 Thousands of people marched in Cape Town on Friday because children are not safe at many Western Cape schools.
Nongovernmental organisation Equal Education led a march' which included civil groups and teachers unions' to the gates of Parliament where they delivered a memorandum to the national departments of education' police' social development and finance.
The demands included better allocation of resources throughout the province and addressing "deepening spatial apartheid".
"We want departments to stop passing the buck and stop shifting responsibility and actually sit down and engage communities on what they need'" said Nishal Robb' head of Equal Education in the Western Cape.
He said many schools don't have fences or security guards and teachers are not equipped to ensure learners' safety.
"Learners are stabbed and hurt and injured badly in school as a result of violence on a weekly basis. Two learners have been killed just in the last two weeks alone. There is ongoing evidence over the past two years that security is at a crisis point and it's just getting worse."
The protest came just a day after a number of schools across the city had to close early after violence broke out in their areas.
Education MEC Debbie Schafer said her department had done as much as it could to ensure schools were protected' and blamed gang violence for depriving children of their educational opportunities.
"We simply do not have the legislative mandate' security manpower or budget to guarantee learner safety from gang violence'" said Schafer.
She acknowledged that police stations were under-resourced' but said she appreciated the commitment of civil society to try to protect schoolchildren.
Regarding the inter-relationships between national departments involved in safety at schools and in the neighbourhoods' Schafer said progress had been made in the past few months.
But Yasierah Adonis' provincial chairperson of the National Professional Teachers' Association of South Africa' believed it was precisely the lack of communication between departments that had led to schools being unsafe.
"Safety is not limited to Western Cape Education Department'" said Adonis. "Safety is a provincial competence and we call on all the other stakeholders to play their part as well. None of these departments are talking to each other."
Robb said teaching and learning was hindered by the violence' and called for police resources to be "equalised" across areas.
"You cannot learn if you've just been robbed or you're feeling vulnerable. And if you as a teacher are feeling unsafe in your workplace then you can't teach'" said Robb.
"All the organisations behind this see the deepening of poverty' inequality and unemployment as the key drivers behind the violence and crime generally and schools situated within communities become targets for desperate people.
"Another key element is the police resources issue. We want to change and equalise "[how] the police resources are allocated. Currently the police stations dealing with the highest volumes of violent crime are also the least resourced per capita in the province."
Source:-
.businesslive