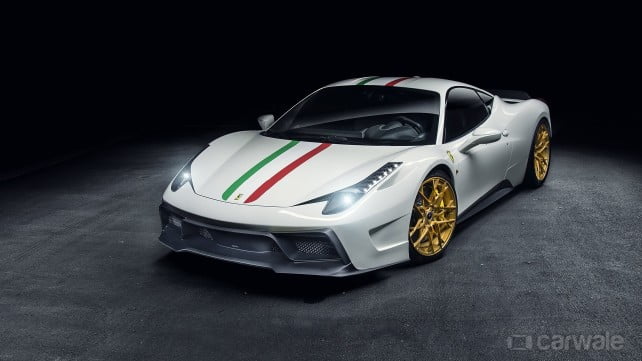 SEMA always sees a host of madly tuned cars. But this Ferrari from the North American Turner Vorsteiner is not about horsepower. It flaunts the latest Aero-body kit from the tuner make sure it goes faster with the same horsepower.
Called the 458-VX, it is based on the Ferrari 458 Italia. The Vorsteiner body kit makes it look spectacular, especially in the fresh white paint scheme and the golden alloys. The front bumper is custom built in carbon-fibre. Lending some aggressive and brutal appearance to the car are the protruding carbon fibre splitters that hide a sharp new air intake.
Running down the hood of the car are stripes representing the Italian tricolour like the one-off 458 MM Speciale. The rear gets a loud diffuser also made of carbon-fibre. The race car look is completed by the lip spoiler in the tail. The triad of tail pipes is finished in blue.
All these upgrades are not just cosmetic. They are properly functional and improve the downforce of this Italian exotic. The yellow brake callipers don't fail to catch your attention either.
Looking at this build, we are having a serious want for the 458 Italia which has now been replaced by the Ferrari 488. Sharing the stage with the 458-VX at the SEMA 2016 is the crazy McLaren 570-VX program from Vorsteiner.
[source;carwale]