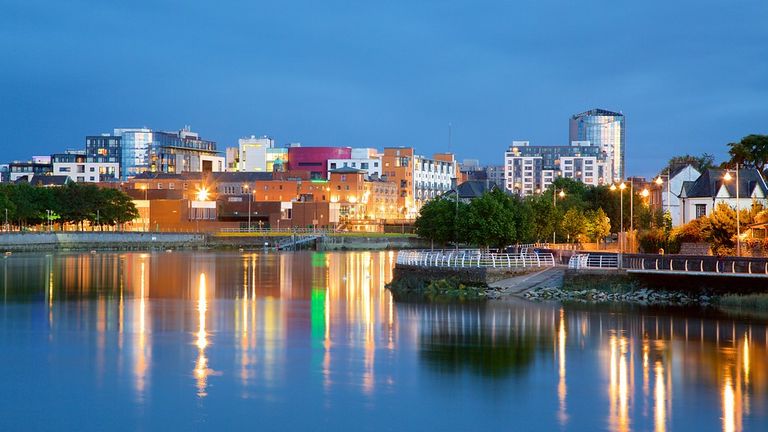 With its Milk Market, Hunt Museum and the River Shannon to enjoy, Limerick is perfect for a short, and very indulgent, break, writes Denise O'Donoghue.
Considering it is only a 90-minute journey from Cork, I was surprised to realise how seldom I set foot in Limerick city. An invite from the Savoy Hotel soon tempted me to pay an overdue visit to the neighbouring county and take in the sights, sounds, and tastes of the Treaty City. It was to be a weekend filled with food and fun for a mother-daughter duo.
We travelled to Limerick via bus, but those driving can avail of the hotel's valet parking and concierge service before checking in. We chose to start our five-star weekend with a short, comfortable bus journey from Cork city. The bus station — which is also the train station for those arriving by rail — is a five-minute stroll away from the hotel, so we enjoyed a short trip through the quiet city streets that morning.
After dropping off our belongings at the hotel, our first port of call was Limerick's famous Milk Market, which has been part of the city since 1852. The open-air Milk Market is filled to the brim with stalls offering a selection of tasty treats for all palettes, as well as some non-food produce too. For this trip, however, we had eyes only for food, and the Savoy's head chef, Graeme Campbell, was our guide through the food haven.
We paid a visit to Da Vincenzo's stall, where we were told about their authentic Italian produce which they use in their restaurant at the Savoy's sister hotel, The George before we followed our sweet tooths and moved over to a nearby chocolate shop. Wilde Irish Chocolates make their goodies on the shores of Lough Derg in Clare, and we were delighted to hear from Trish that they offer free tours of the factory — we're already planning a visit to Clare. Finally, we stopped by the Flying Cheese Brigade to sample a variety of the cheeses they have on offer, a tempting treat for any enthusiastic foodie.
After an enjoyable stroll around the Milk Market and with a coffee in hand for the journey, we waddled over to the nearby Hunt Museum.
We also wandered upstairs to view some of the art and artefacts which belonged to the Hunt family. John and Gertrude Hunt, who lived in the house, collected bits and pieces from around the world — these include an early Picasso piece, a cross owned by Mary Queen of Scots and what is rumoured to be one of the pieces of silver Judas received for betraying Jesus.
You can easily lose an afternoon in this historical and cultural treasure trove, and free tours are available every hour with one of the museum's 'Docent' guides. Admission to the museum costs €5, but it is free on Sundays.
There is an additional charge to view special exhibitions.
We returned to the Savoy for a delicious afternoon tea. We were spoilt for choice with scones, cakes, sandwiches and treats aplenty, as well as a steady flow of champagne.
We were served in the Library Bar, a beautiful room lined with bookshelves and pillars adorned with flowers. If there's a more instagrammable venue in Limerick, I've yet to find it. We sank into the comfortable couches and ate until we were fit to burst – and we had only touched around half of what was on offer.
Afternoon tea starts at €27, rising to €45 if you choose to treat yourself to a glass of Bollinger rosé.
The hotel, which is the only five-star in Limerick, is ideally located to make the most of the city centre's attractions, being just a few minutes walk from the main sights and shops.
For those seeking a more relaxing offering, hotel guests have complimentary use of the Savoy Aqua & Fitness Club, which includes a swimming pool, sauna, steam room and Jacuzzi. We chose to take a walk around the city to try to digest the seemingly bottomless food. Of course, we had the obligatory 'just a look' in Penneys and a still beside the River Shannon, before returning for
to indulge in some pre-dinner drinks in the vibrant atmosphere of the Savoy Bar. The bar offers an extensive list of cocktails and is perfect for a get-together and a catch-up.
We moved upstairs to the Savoy Restaurant for course-after-course of high quality, local food for dinner. Remember the local producers we met in the Milk Market?
They featured heavily on the menu that night. The 'Cheese Showcase' included samples of cheddar, Crozier blue, brie and more sourced from the Flying Cheese Brigade, while Wilde Irish Chocolates ended the meal on a sweet note.
Also on offer were Limerick strawberries, Union Hall turbot, and Bertha's Revenge gin and tonic sorbet, which was just as delicious as it sounds.
We retired to our room that night with bellies fit to burst. We sank straight into the luxurious queen beds in our twin room for a glorious night of sleep. We returned home the following day well rested and well fed.
Limerick, we'll be back.
["Source-irishexaminer"]