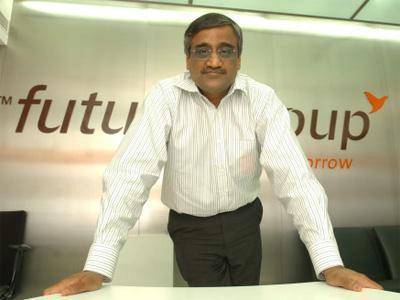 New Delhi: New Delhi:Kishore Biyani-led Future Lifestyle Fashion (FLF) has identified six brands in its portfolio which will give the company next stage of growth and profitability, it said in investors presentation. The company is calling them Power Brands and they together are expected to constitute 65%-70% to own brand sales by financial year 2020.
The brands on which the company will put more focus are denim brand Lee Cooper, men's fashion brand John Miller, casual and sportswear brand Scullers, plus size unisex brand All, club wear brand Indigo Nation and women's fashion brand Jealous 21.
Lee Cooper which has generated a revenue of Rs 320 crores in financial year 2017 aspires to be a Rs 1,000 crore brand, the company said without mentioning the time frame expected achieve this feat. John Millers, Scullers, Indigo Nation and All generated more than Rs 100 revenue for the company in financial year 2017, clocking total sales of Rs 120 crore, Rs 110 crore, Rs 110 crore and Rs 120 crore respectively. Only one of the Power Brand Jealous 21 has clocked less than Rs 100 crores in revenue at Rs 90 crores.
FLF posted 17.5% rise in net sales for fiscal ended March 2017, surpassing department chain Shoppers Stop in annual sales for the first time ever, ET had reported earlier. FLF, which runs Central and Brand Factory, had sales of Rs 3877 crore during the year. In comparison, K Raheja's Shoppers Stop with an eponymous department chain, home format Home Stop and specialty beauty formats such as Estee Lauder and Mac posted sales at Rs 3677.6 crore.
According to the company, FLF will focus on building Power Brands which can drive higher growth and profitability. The company will allocate resource and capital to grow these six brands to next level and there will be a dedicated team to drive these brands. The company is focusing on high growth categories in the fashion space, it said in the presentation.
FLF expects Power Brands to grow twice as fast compared to other brands in its portfolio.
The six Power Brands contributed 53% of FLF brands revenue in financial year 2015 while its share increased to 60% in the next fiscal, the company said.
The company's other fashion brand Bare clocked a revenue of Rs 110 crore in the financial year 2017.
The retail formats of FLF, Central clocked revenue of Rs 2,274 crore which contributed to 59 percent of the company's revenue while the other format Brand Factory posted a revenue of Rs 1,045 crore.
["Source-ndtv"]