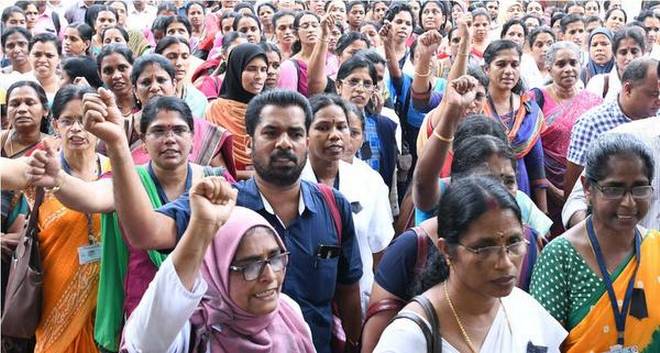 Health inspectors take out a protest march at Malappuram on Friday.
Three youngsters arrested for attack on nurse while administering vaccine in Malappuram
Government doctors, nurses and health inspectors involved in the Measles-Rubella (MR) vaccination campaign in the district boycotted the immunisation programme on Friday in protest against the attack on a nurse while administering MR vaccine to children at a primary school in Edayoor grama panchayat on Thursday.
The police arrested three youngsters in connection with the attack on junior public health nurse Shyamala Bai C.K. and assault on medical officer Ali Mohammed. Mubashir P., 23; Safwan P., 24; and Faizal Babu, 24; were arrested from their houses on Friday morning. The police said a case was registered against nine others for preventing officials from discharging their duty and threatening them.
Ms. Shyamala Bai was admitted to hospital with arm injuries following Thursday's attack by a group. Health workers alleged that the man who led the attack was not arrested yet. The district administration has offered to provide police protection for health workers administering MR vaccine in schools. District Medical Officer K. Sakeena said that they would not succumb to intimidations and threats by the anti-vaccine lobby.
She said that a rapid response team would be kept ready to deal with any emergencies. She said the health workers in the district would work with renewed zest and verve to reach out to the children with the MR vaccine. As many as 7.64 lakh children in the district have already been given the vaccine. "We have covered 61.5% against many odds," Dr. Sakeena said.
["Source-thehindu"]