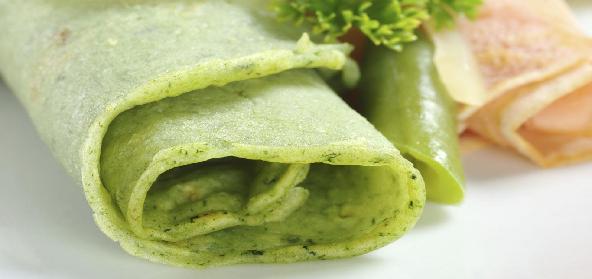 When you think of dosa, the first preparation that comes to your mind is that of masala dosa. We can however make our favourite snack healthier by experimenting with its filling. So, if you don't feel like having plain dosa, but can't really have potatoes, this recipe is perfect for you.
Palak Paneer Dosa
Ingredients
Dosa batter (2-3 cups)
Spinach paste (½ cup)
Salt (1 tsp or as per taste)
For stuffing:
Chopped spinach (2 cups)
Mashed Paneer (200 grams/1 cup)
Oil (2-3 tbsp)
Salt (½ tsp or as per taste)
Cumin seeds (½ tsp)
Seedless and finely chopped green chilly (1-2)
Grated Ginger (½ inch baton)
Red chilly (less than ¼ tsp/optional)
Method
STEP 1: PREPARE THE STUFFING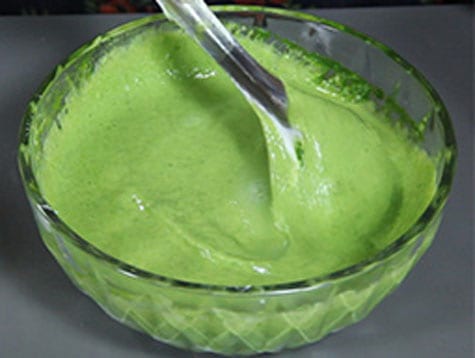 (Source: nishamadhulika.com)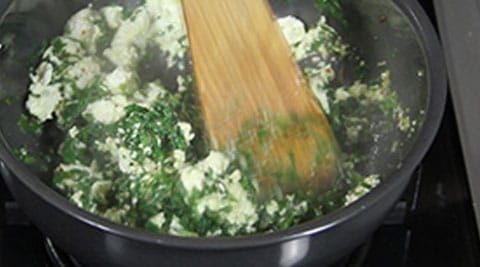 (Source: nishamadhulika.com)
Pour 2 tsp oil in a pan or any other cooking utensil.
When oil heats, add cumin seeds and stir for a while.
Add green chilly, ginger paste and sauté.
Add chopped spinach, salt, red chilly and paneer. Mix all ingredients properly. Take it all out in a vessel.
Now add spinach and salt in dosa batter. You can add some water if the consistency of the batter is thicker than what you want.
STEP 2: MAKING DOSA
Preheat nonstick tawa. When tawa heats, put some oil and spread it.
Now pour 2 tsp dosa batter on the tawa and spread it in a circular shape.
Cook until it gets golden brown in color from bottom.
STEP 3: PUT THE STUFFING IN DOSA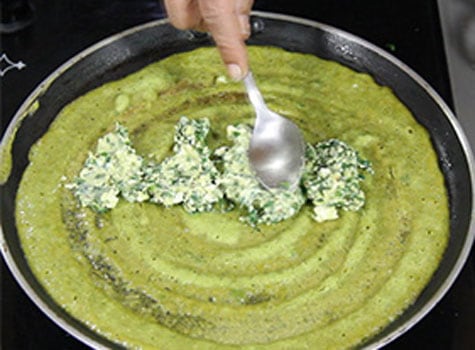 (Source: nishamadhulika.com)
(Source: nishamadhulika.com)
Now place 1-2 tsp stuffing and spread it evenly.
Fold the dosa and take it off from flame.
Before making other dosas clean the tawa with wet cloth so that the tawa is not overheated. The dosa may get burnt, if the tawa is overheated. Prepare all the dosas in a similar way.
Serve the steaming hot palak paneer dosa with sambar or coconut chutney or peanut chutney.
SUGGESTIONS
1) While making stuffing make sure you don't overcook spinach. With this spinach will becomes juicy and greasy.
2) For making spinach paste, wash the spinach thoroughly, twice with water. Now make fine paste of these leaves in a grinder.
DOSA BATTER
Take 3 cup rice and 1 part urad dal. Soak them separately for 4-5 hours. Add 1 tsp fenugreek seeds. With this dosas come out crispy. Drain out excess water from dal and rice. Grind the rice. Add 2-3 tsp water or as per need for grinding rice. Now finely grind dal and fenugreek seeds. Take out both the ingredients in a bowl and mix well. Allow the batter to ferment. It takes 12 hours for batter to get fermented during summers and 20-24 hours during winters.
["source-timesofindia"]