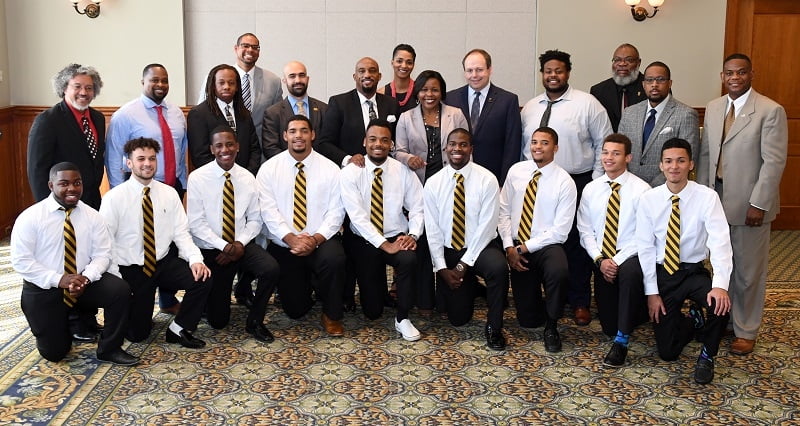 Students in the new cohort of the Project IMPACT program (kneeling) are joined by their mentors and Rowan University administrators who lead the initiative.
When he is struggling with a difficult class or having a challenging day, Marcus King thinks of a single word: Doctor.
"That's the goal," King, a sophomore health and physical education major, says simply.
Given his involvement in Project IMPACT (Increasing Male Practitioners and Classroom Teachers), King has every reason to believe he'll reach the zenith of his educational endeavors.
Founded last year at Rowan University, Project IMPACT is designed to address a persistent problem in education: the limited presence of male teachers of color in the teaching ranks at the preschool, elementary and secondary school levels.
The program is a collaboration between the College of Education, the Division of Student Affairs and Student Success Programs. It's housed in the Office of Educator Support and Partnerships in the College of Education.
Addressing equity and diversity
"Project IMPACT isn't just a College of Education program. It's a Rowan University program. We are doing something about a national problem, solving it locally," says College of Education Dean Monika Shealey, who, three years ago, brought together a group of leaders from across the University to brainstorm ways to address issues of equity and diversity in the teaching ranks.
Together, they founded IMPACT. The first cohort of students—a dozen young men—began the program last fall. Another nine students, who aspire to become history, mathematics, physical education and elementary school teachers, were inducted into IMPACT during a ceremony earlier this semester.
Through the program, the students are enrolled in some of the same foundational education classes and attend monthly mentoring sessions and other on- and off-campus activities. They are mentored by the Men of Color Network, a group of 15 educators dedicated to supporting and guiding aspiring teachers and educational leaders.
All dedicated to addressing issues of equity and diversity in education, the mentors meet with IMPACT students one-on-one and also at the monthly group sessions. Additionally, the new cohort, known as IMPACT 2021, has the bonus of having peer mentors in the first group of IMPACT students.
Students in the program receive a $4,000 scholarship annually as long as they meet GPA requirements.
'The foundation of all professions'
"Teaching is the foundation of all professions," says Shealey, noting that a Department of Education study showed that, by 2022, non-white students will make up about 55 percent of the public school population.
Yet, says Shealey, "teachers of color will make up less than 20 percent of educators nationally. We know that the unique pedagogical contributions of teachers of color positively impact student performance, particularly those from similar backgrounds. And the research bears that out.
"Moreover, it's important for white students to see teachers of color. All students benefit from having teachers from diverse backgrounds. When we prepare teachers to implement cultural responsive practices in their classrooms, they are able to transform the lives of their students and their families."
Men of Color Network
Count Rowan alumnus George Guy, principal of Rosa International Middle School in Cherry Hill, among the Project IMPACT believers. Guy, who earned his master's degree in school administration from Rowan in 2006, is a mentor through the Men of Color Network
"One of the things the network prides itself in is having the opportunity to mentor IMPACT students through the four-year process at Rowan and to get more men into the PreK-12 pipeline," says Guy. "You're going to see these young men go into public schools and make a difference.
"We need teachers well versed in critical race theory, cultural responsiveness and equity. And schools are desperate for men of color. We're all invested in this."
The program will work to develop a pipeline to hire new teachers, adds alumnus Ronn Johnson, superintendent in the Lawnside school district and a mentor in the network.
"Once the students earn 60 credits, we want to get them substitute teaching certificates," says Johnson, a former teacher in the Camden school district. "The support system they have is crucial. We have a responsibility to give back to them what was given to us. I hope our collective experiences are resonating with the IMPACT students. I hope they are learning from the challenges we face."
During a ceremony in the Chamberlain Student Center last month, the 2021 IMPACT cohort was welcomed to the program by University officials, their mentors and the first IMPACT class.
'We have a special bond to help each other'
Sophomore English and education major Jeffrey Crisanti led a ceremony in which members of the first cohort presented the second cohort with handwritten letters welcoming them into the IMPACT family.
Crisanti read his letter to the gathering.
"Welcome to Project IMPACT, a unique opportunity that has chosen you to foster the growth and development of this nation's future through education," he wrote. "Welcome to an environment that will turn challenges into accomplishments through brotherhood, financial assistance and a mentor network that has guided me more than words can describe."
After the presentation of letters, Vice President for Student Life/Dean of Students Richard Jones called the mentors in the program to the front. There, during a tie-tying ceremony, they presented the IMPACT inductees with brown and gold ties symbolizing their commitment to the program, to their field of study, and to each other.
"Teachers make a difference in students' lives, especially when they inspire," Jones told the gathering. "That's what you have the opportunity to do."
IMPACT inductee Kavon Johnson, a health and physical education major, said his involvement in the program will make a huge difference in his teaching career. He's known since elementary school that he would be a teacher.
"I told my kindergarten teacher, Miss Valentine, that I was going to be a teacher," he says. "She said if I worked hard, I could do anything I wanted. I always try to set my goals high. I have these brothers to help me. We have a special bond to help each other."
'This program needs to be everywhere'
As they continue through the program, King and his IMPACT brothers are focused on their goals. They all see a future that includes classroom teaching. Some of them envision becoming a principal or superintendent.
Their brotherhood buoys them, King says.
"We push each other," he says. "Ten years from now, we'll be working in different school districts. But the guys in this program always will be my brothers."
King has an extraordinary educational pedigree.  His mother, Denise King, principal of the B. Bernice Young Elementary School in Burlington Township, was the New Jersey 2016 National Distinguished Principal as recognized by the National Association of Elementary School Principals. She also received the Elementary Visionary Leadership Award from the New Jersey Principals and Supervisors Association and New Jersey Department of Education.
Denise King, who was at the induction ceremony to congratulate the new cohort, said the program needs to be replicated nationally—a goal that Shealey also envisions.
"This program needs to be everywhere," she says. "It needs to be in the footprint for every College of Education at every university."
["Source-rowan"]