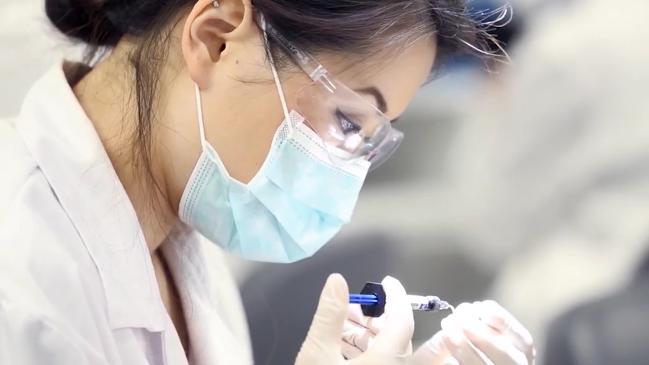 PRIVACY groups have slammed the Federal Government for their silence over a controversial internet health record forced on every Australian as of next year.
More than $1.7 billion of taxpayer's money has gone into developing a personalised My Health Record for every Australian.
It will detail every subsidised medicine used, every doctor and hospital visit, blood test result, X-ray and scan ever provided to each person.
People who want to opt out of the system to keep private sensitive information like abortions, sexually transmitted disease, mental illness, obesity surgery will have three months to do so.
But privacy groups are gobsmacked by the government's decision not to use TV, radio or newspaper ads to explain this to the public.
If you fail to opt out within the three-month deadline, the government will automatically create the record for you — and it will be kept for 130 years.
The information will also be made available to researchers and it can be used by the Tax Office and police or health insurers if requested by a court.
Once the record is set up people will have to set up a PIN number and controls if they want to ensure receptionists at their podiatrist or dentist can't see their personal health information.
In an exclusive briefing, the Australian Digital Health Agency (ADHA) — which is in charge of running the record — was unable to say when the opt out period would begin or end next year.
And it revealed to News Corp there will be no public advertising about how consumers can tell the government they don't want a record set up.
The agency has a tiny budget of just $27.75 million for "comprehensive communication and engagement activities".
"There will be no paid TV … it'll be a PR-based approach also using social media, community engagement and the Primary Health Networks," a spokesman for the Australian Digital Health Agency said.
Patients may find out about the record if they see a poster about it on the wall of the GP's surgery.
"Our experience and research, including from the opt out trials, has informed the consumer communication approach, which focuses on grassroots community engagement through trusted channels," the agency says.
There will be no mail out to households explaining the new record.
"Our experience and research, including from the opt out trials, indicates that a mail out to all households is not the most effective communication mechanism in this circumstance," the agency said..
The communication stratey will include thousands of face-to-face briefings at community events and distributing information through doctors surgeries, hospitals and libraries.
Privacy groups say they are "gobsmacked" at the decision.
"My immediate reaction is what have they got to hide," says Privacy Foundation spokesman Bernard Robertson-Dunn.
"If you don't opt out you are effectively giving your health data to the government," he said.
"They fear people will opt out, that is why they are not telling them."
The CEO of the Consumers Health Forum, Leanne Wells, said consumers need to be well-informed about the My Health Record and the consequences and benefits of the opt-out provisions.
"Confidence and trust in the My Health Record is vital to its success," she said.
"We understand that a communications strategy to support the MHR expansion is being developed.
"Given the scale and sensitivity of the MHR development, we will be advocating for funding of the education and information process to be well-targeted and to include easy-to-understand messages."
The record has had a troubled history.
When it was launched it was an empty vessel. No doctor was able to use it.
In trials of the opt out system, records were set up for dead people then it emerged only 147 of the one million Australians given an opt out record set up a PIN number to protect the information.
Five years after it was set up, just one in five Australians have registered to set up a My Health Record.
And only 1.2 million of those 5.3 million records have been populated by a health summary written by the patient's doctor.
Specialists can't even use the record because they don't have computer software that is compatible and pathology results are only just becoming available in some states.
The government is hoping if it makes the record an opt out system doctors will start to use it because everyone will have one.
The ADHA claims the record will save money because it will stop doctors ordering unnecessary repeat scans and blood tests.
It says it could prevent medication errors in hospital because it will record every prescription issued to a patient.
But for the record to work as intended doctors will have to update it every time a patient visits, that is not happening now.
["Source-couriermail"]