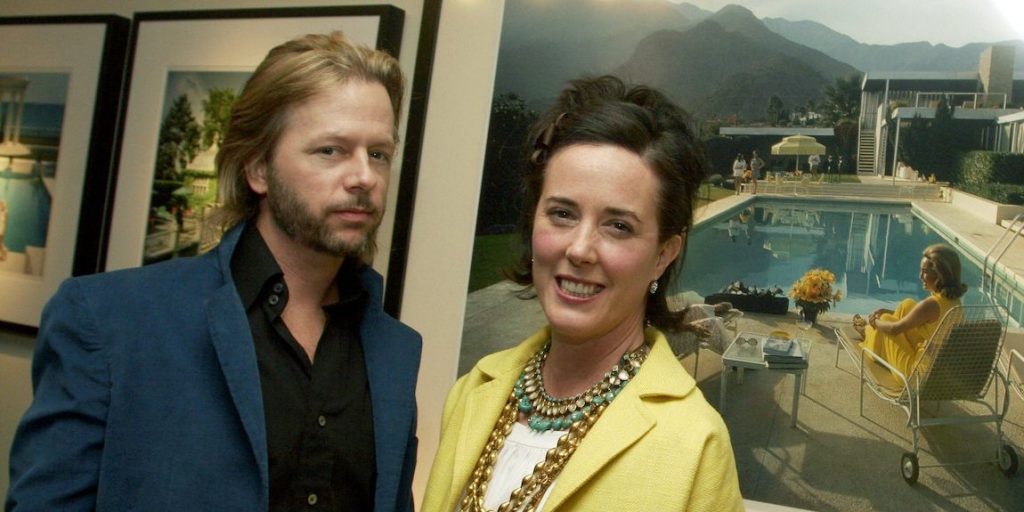 Fashion designer Kate Spade died in an apparent suicide on Tuesday.
Her brother-in-law, David Spade, paid tribute to her in two social media posts. One said: "It's a rough world out there people. Try to hang on."
The comedian also said: "I don't think everyone knew how f—ing funny she was."
Kate Spade's sister also said she had mental illness and seemed fixated on Robin Williams' death by hanging in 2014.
---
The comedian David Spade has paid tribute to his sister-in-law Kate Spade, who died in an apparent suicide on Tuesday morning. Around the same time, Spade's sister said that her death was "not unexpected."
David Spade posted two photos of himself with Kate on Twitter and Facebook, in which he remembered her wit and warned of a "rough world out there."
Kate was married to David's brother, Andy Spade, who was also her business partner.
David Spade wrote on Instagram:
"Fuzzy picture but I love it. Kate and I during Christmas family photos.
"We had so much fun that day. She was so sharp and quick on her feet. She could make me laugh so hard. I still cant believe it. It's a rough world out there people, try to hang on."
The messages appear to be a reference to mental illness, with celebrities, fashion industry figures, and fans also reacting to the designer's death with messages about mental health.
A housekeeper found Kate Spade hanging from a red scarf on a bedroom door in her Park Avenue apartment, the Associated Press reported, citing law-enforcement officials.
Bebeto Matthews/AP Images
'Not unexpected'
Spade suffered from mental illness for years, her sister Reta Saffo said. She suggested that the designer could have been planning her suicide as early as 2014, when Robin Williams died.
Saffo told The Kansas City Star in an email:
"I will say this was not unexpected by me. I'd flown out to Napa and NYC several times in the past 3-4 years to help her to get the treatment she needed (inpatient hospitalization).
"She was always a very excitable little girl and I felt all the stress/pressure of her brand (KS) may have flipped the switch where she eventually became full-on manic depressive…"
Saffo added that she and Spade were at a hotel together in Santa Fe, Mexico, when they saw reports of Williams' death in August 2014.
"We were freaked out/saddened, but she kept watching it and watching it over and over," Saffo said. "I think the plan was already in motion even as far back as then."
If you or someone you know is struggling with depression or has had thoughts of harming themselves or taking their own life, get help. The National Suicide Prevention Lifeline (1-800-273-8255) provides 24/7, free, confidential support for people in distress, as well as best practices for professionals and resources to aid in prevention and crisis situations.
Remembering Kate Spade:
'You don't know me but I know you': After Kate Spade's death, people are sharing how the designer touched their lives through fashion
Kate Spade has died in an apparent suicide at 55. Here's the story behind the rise of her handbag empire.
Kate Spade shared how she wanted to be remembered in a 2002 interview
Kate Spade was totally detached from her namesake brand
Kate Spade leaves behind her husband and business partner. Here's what we know about their relationship.
Kate Spade's fans are reacting to her apparent suicide with reminders about mental health
Celebrities and fashion industry figures are reacting to Kate Spade's apparent suicide
["Source-businessinsider"]