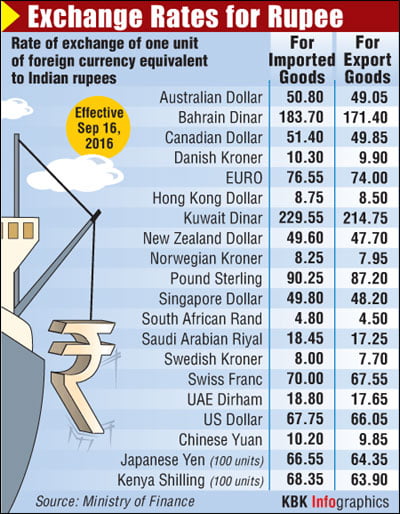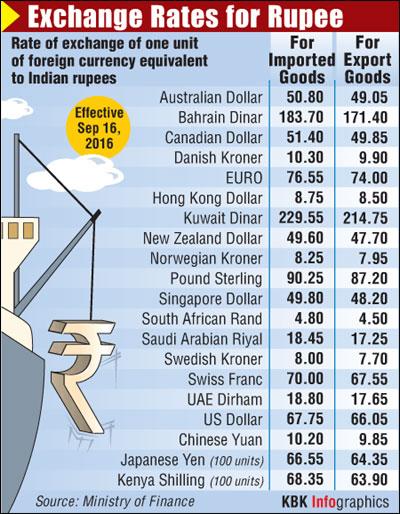 The rupee, on Thursday, ended below the psychological 67-mark, falling 13 paise to hit over two-week low, on renewed demand for the US dollar amid reports that the commerce ministry might propose devaluation of the domestic currency to give a fillip to the exports sector.
To end the day, the rupee settled at 67.02 against the American currency – its lowest level since August 30.
The home unit witnessed a sudden plunge in morning trade on reports that the commerce ministry is working on a strategy that included proposing the finance ministry devaluation of the rupee to give a boost to sagging goods and services exports.
The finance ministry officials, however, later said there were no plans to devalue the domestic unit and its value will continue to be determined by the market, helping the local currency reclaim some lost ground amid suspected interventions from the central bank to prevent a sharp fall.
The rupee opened a tad higher at 66.88 compared to Wednesday's closing value of 66.89 at the Interbank Foreign Exchange (forex) market and continued its ascend to touch a intra-day high of 66.82 on initial dollar selling.
But it suffered a setback in late morning deals and dropped to 67.0750 before recouping some early losses to end at 67.02, showing a fall of 13 paise, or 0.19 per cent.
On Wednesday, the rupee closed 3 paise higher at 66.89.
On the global front, the dollar traded a bit stronger against the major currencies.
There are concerns that the Federal Reserve will soon be hiking interest rates, despite lacklustre US economic data as well as contrasting commentary from policymakers, a forex dealer said.
The Federal Reserve starts its two-day September meeting next week.
The US dollar index, which measures the greenback's strength against a trade-weighted basket of six major currencies, was down 0.16 per cent at 95.17.
The RBI fixed the reference rate for the dollar at 67.0248 and euro at 75.3627.
In cross-currency trades, the rupee retreated against the pound sterling to end at 88.61 from 88.33 and fell back against the Japanese yen to settle at 65.55 as compared to 65.18 per 100 yens on Wednesday.
It also dropped further against the euro to finish at 75.34 from 75.10 earlier.
[source;rediff.com]