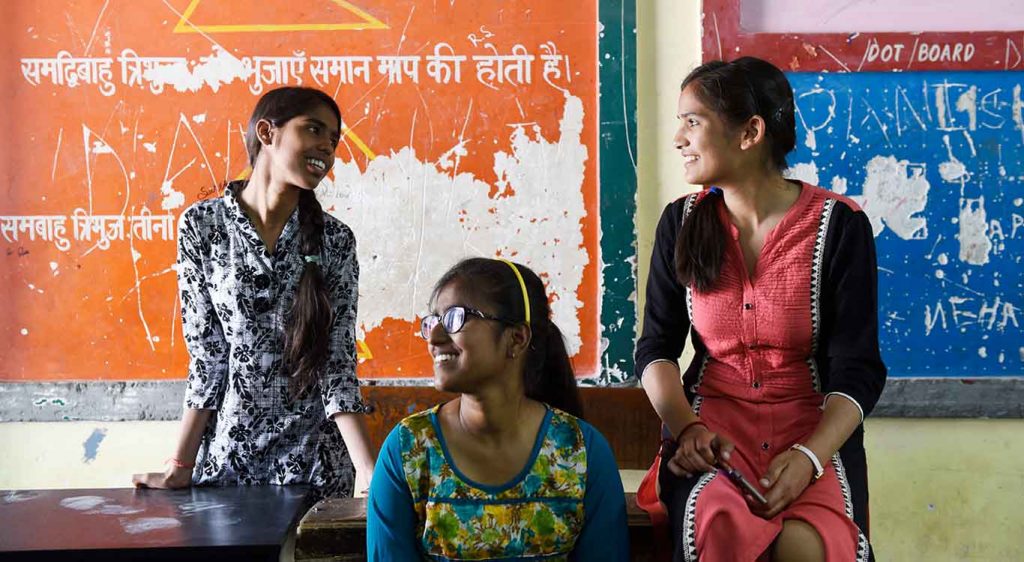 On a sunny afternoon in April, Deepmala, Jyoti Maurya, and Priyanka Rai, made a triumphant return to the Government Girls' Senior Secondary School in C block, Sangam Vihar — a year after they graduated as the toppers of their batch.
Growing up, the girls reflected, is a strange experience of simultaneously expanding and contracting horizons: the growing possibilities of adult life tempered by the restrictions of what the girls called "societal mindset."
At a time when it is fashionable to speak of education solely in terms of employability, the battles of Sangam Vihar's young women reveal how a liberal education can loosen, if not completely break, the shackles of patriarchy.
For Priyanka, her first encounter with the "mindset" was when her father told her she couldn't go to college.
"He said, girls lose their values when they go to college," Priyanka said, "In my community, women aren't allowed to work – the only acceptable job is that of a school teacher."
And so Priyanka, who topped school with 95.6%, signed up for a two-year diploma to train as an elementary school teacher, rather than study economics – as she had hoped to.
Deepmala, Jyoti Maurya and Priyanka Rai, who topped their respective classes in the Government Girls' Senior Secondary School speak of their struggle to get an education.
Shrinking workforce
Mass schooling programmes enacted under the Right to Education have pushed up women's literacy in India, but women's participation in the workforce has dipped precipitously — from 37% in 2005 to an alarming 27% last year.
In urban India, the participation rate is only 20%. Data analysed by the World Bank suggested proportionally fewer women are joining the workforce, later in their lives, and dropping out earlier.
Some of the drop in employment is down to shrinking jobs in rural India, but as the girls in Sangam Vihar realised, a lot of it is down to a patriarchal mindset that arbitrarily decrees what sorts of jobs are suitable for women.
Deepmala was more successful in her fight with her family. She made it to a Bachelors of Commerce degree at Gargi College in Delhi University; but the mindset had already forced her to drop mathematics in Class 10, because her family wouldn't let her go for tuitions. This meant she had to settle for a BCom general degree instead of the Honours programme she had in mind.
"My father is very open-minded, but he is easily influenced by tauji, his elder brother," said Deepmala, who uses only her first name. "Tauji said, when a girl comes home late, people start asking where she's been. So I couldn't take tuition."
When Deepmala got into Delhi University, she said, "There was a big fight in the family, but my father finally told tauji that he was going to let me go to college."
Jyoti said her family, and particularly her father, consistently supported her education.
But when I came to class 11, again that mindset. In our school, girls in the morning shift aren't offered science as a stream, but boys in the evening are.
– Jyoti Maurya
So Jyoti topped her commerce class and is now studying for two degrees at the same time – B.Com (Honours) at Kamala Nehru, and chartered accountancy.
A welcome freedom
College, both girls said, was disorienting, but liberating.
"I'm the only girl from a government school in my class in college," Jyoti said, "It feels strange. I sit in the front row in accounts class, but I sit in the last row when its time for the English period."
Very often, Jyoti said, she knows the answer to a particular question but hesitates.
"The English words won't come out," she said, "I've lost some confidence, I've developed a stammer — which I never had before. But I'm going to master English and then I'm going to learn French, or Spanish."
Their education has liberated Priyanka, Jyoti, and Deepmala (left to right), but society continues to hold them back
When Deepmala joined college, she decided to do something she had never done before — dance.
"I was a very shy girl in school," she said, "In 12 years, I didn't participate in a single extracurricular activity. All I did was study."
Dance, she felt, was one way to shed her inhibitions about many things – about studying in a government school, about living in Sangam Vihar, about wearing a salwar kameez.
"In school, I was inspired by Priyanka," Deepmala said, "She did everything — dance, recitation, elocution, sports – and she still came first."
The dance society rejected her at first — "There were all these weird movements they made me do" — but the second time they took her just on her enthusiasm.
Priyanka listened quietly as her former classmates excitedly discussed college. It has been difficult for her to watch her friends pursue the dreams that she had always wanted for herself.
"Maybe I can go to college after my teacher training," she said, "For now, I'm beginning to like my course."
Teaching in elementary school was important, Priyanka concluded, "it is the first step in changing the mindset."
["source-hindustantimes"]