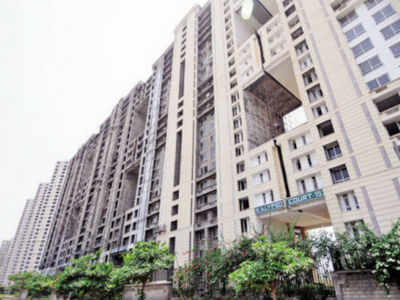 NEW DELHI: Buying a house is an emotional decision for many people. Actually, it is one of the biggest investment one makes in their lifetime. That is why for a common man many sentiments are attached to a home. Number 13 – is not only one of the most popular superstitions in the real estate sector but also impacts both residential and commercial sectors equally. Buyers are not only afraid of number 13 but also avoid buying or investing on the 13th floor. That is why, the real estate sector also respects a buyer's sentiments.
Around the world also there are many superstitions and folkloric aspects related to number 13. In India, many people avoid buying a house with number 13 or on the 13th floor. In fact, many residential and commercial buildings do not have the 13th floor mentioned in towers. Elevators also skip the number 13 and even real estate developers avoid this number.
Amit Modi, director, ABA Corp and president (elect) CREDAI (Western UP) says, "Buying property is mostly an emotional decision rather than a straight forward investment. Hence, the effort is always there to make sure that a home buyer's reservations and sensitivities are addressed at the source itself. So be it Vaastu, Feng-Shui or for that matter Numerology, these are always kept in mind by the developers. The urban myth surrounding number 13 makes it difficult to sell this number, considering that real estate is one of the biggest investments of ones life. Even though there is no such validation for number 13 being unlucky in the Indian context, especially with festivals like Lohri and Baisakhi being celebrated on the thirteenth day of the month across North India. Thus, it's only due to sentimental reservations that number 13 is avoided in almost all housing projects."
Why is number 13 considered unlucky? "Developers have to take care of the sensibilities of every customer and stakeholder involved and many individuals are superstitious about number 13. Though it is not an Indian superstition, the belief has entered the Indian system because of globalisation and the entry of MNCs. It is pragmatic to drop the number from real estate buildings (commercial as well as residential) as developers also target NRIs and MNCs, who have strong inhibitions against this number," explains Amit Raheja, CMD, Wealth Clinic.
But this is not always the case. Many residents live on floor 13 and in fact many projects also have the 13th floor where people are living without any issues.
Traditionally, number 13 may be considered unlucky, yet there is no relevance of this belief in the Indian context. Buyers should be more careful with regard to property title, location and documents rather than superstitions.
["source=timesofindia.indiatimes."]