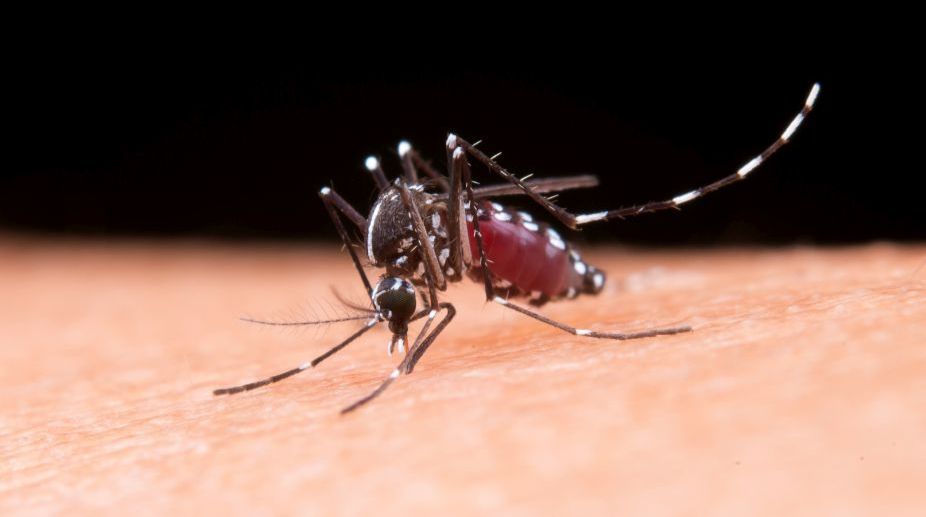 Rain brings great relief to people in hot places. But along with it, comes monsoon woes in the form of many waterborne diseases, including dengue.
The symptoms of dengue fever, a viral disease spread by a mosquito named Aedes aegyptis, are many.
Prolong fever.
Rashes on the skin
Fatigue, severe headache
Muscular pain, joint ache
Pain behind the eyes
Nausea and vomiting.
The platelet level goes down severely ehen the fever is high, which may lead to excessive internal bleeding that could be fatal. If you suffer with these symptoms, be cautious and visit your doctor immediately. Besides the medical treatment, you can try few natural remedies which can help you recover easily.
Aloe Vera juice: The platelet level goes down in dengue fever. It leads to fall in amino acid. So to increase platelet count and amino acid, drink aloe vera juice twice a day and fight off the fever.
Pomegranate juice: Pomegranate has strong anti-oxidants which can increase the platelet level. This juice can help to produce lymphocytes and strengthen the immune system of the body. Drink this juice twice or thrice a day and feel better day by day.
Papaya leaves juice: The juice of fresh papaya leaves is also said to effective to fight dengue virus. Take two tablespoon of this juice twice a day and recover fast from the disease. Never boil or cook the leaves to get the juice. Otherwise all the dengue fighting ingredients will get destroyed.
Goat milk: Deficiency of Selenium mineral and decrease in platelet count are the main complication of dengue. Goat&'s milk is one of the richest source of Selenium as compared to milk of cow and sheep. It is also found to help with the digestive and metabolic utilization of various minerals which are good to fight dengue virus.
Neem leaves juice: The juice of neem leaves increase white blood cells and blood platelet count in the body. So a person infected with dengue virus should take it twice a day. It also boosts the immunity level of the body.
Guava juice: Guava juice mixed with little honey has shown good results to fight the disease. Drink it at least once in a day for fast recovery. It tastes good too and will soothe the taste buds of the patient with its sweetness.
Gooseberry juice: Gooseberries are a rich source of vitamin C. Daily consumption of this juice is very helpful to cure dengue fever.
Basil leaves: Chewing basil leaves or drinking their tea has a significant healing effect on dengue patient. It improves the immunity of the patient too.
Barley grass juice: Drink barley grass juice to see rapid increase in platelet count. It will help fight the side effects of the disease too.
Onion salad: Serve onion salad soaked in vinegar for few hours with every meal to the patient. Onions dipped in vinegar are effective to cure dengue after effects.
Carrot, cucumber and lemon juice: Serve the dengue patient with the juice of these three veggies. It will help to boost the immune system and fight with the after effects of the disease.
Dengue has become a major health problem in India and worldwide. The growing urban population is trying to control the spread of this vector borne disease. Try these home treatments which may help you to get rid of the illness in a safe and healthy way.
["source-thestatesman"]