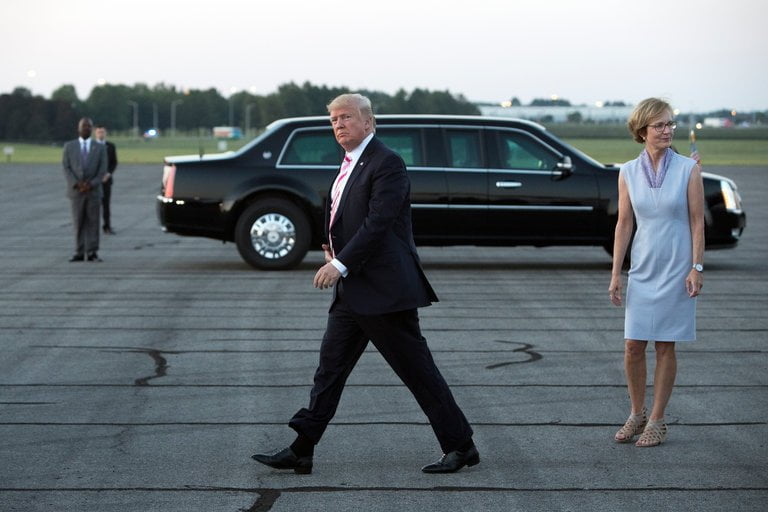 SOMERSET, N.J. — President Trump on Saturday morning lashed out at Senator John McCain of Arizona for breaking with him and opposing Republicans' latest plan to roll back the Affordable Care Act, saying the senator had let his state down and been deceived by Democrats into abandoning a promise.
In a series of angrily worded tweets sent from his golf resort in Bedminster, N.J., Mr. Trump argued that Mr. McCain, whose announcement on Friday that he would not back the health care measure most likely doomed it, had knowingly misled members of his own party about where he stood on the legislation.
In a separate tweet, Mr. Trump noted the large increases in health care premiums and deductibles experienced in Arizona last year. "Chuck Schumer sold John McCain a bill of goods," the president said, referring to the New York senator and minority leader, who was opposed to the measure.
The president defended the measure's approach, which envisions the federal government sending grants to states to administer their own health care systems, and allowing them vast discretion over how to use the money. It would allow them to seek federal waivers to let insurers charge higher premiums to people with pre-existing medical conditions or to omit certain benefits that they are now required to provide, such as maternity care or mental health care.
"Better control & management," Mr. Trump wrote. "Great for Arizona."
"McCain let his best friend L.G. down!" the president added, referring to Mr. McCain's close relationship with Senator Lindsey Graham of South Carolina, one of the bill's sponsors.
Mr. Trump's latest weekend Twitter fusillade came the morning after Mr. McCain surprised the president and his top aides by abruptly announcingthat he could not "in good conscience" support the health care proposal by Mr. Graham and Senator Bill Cassidy of Louisiana, saying it was a partisan plan whose costs and impacts on the health care of millions of Americans were unknown.