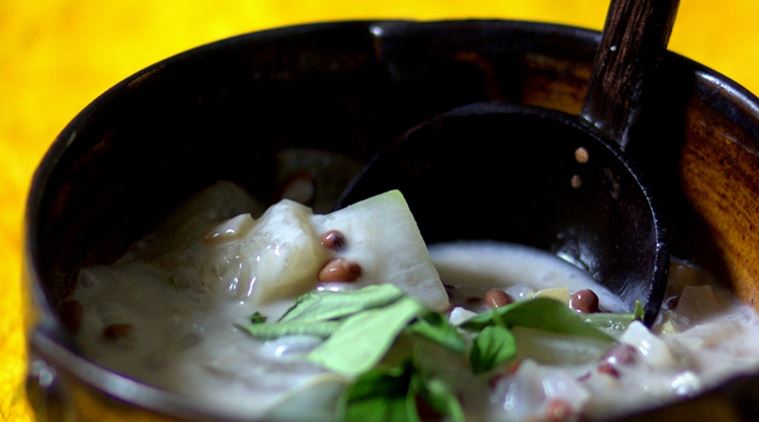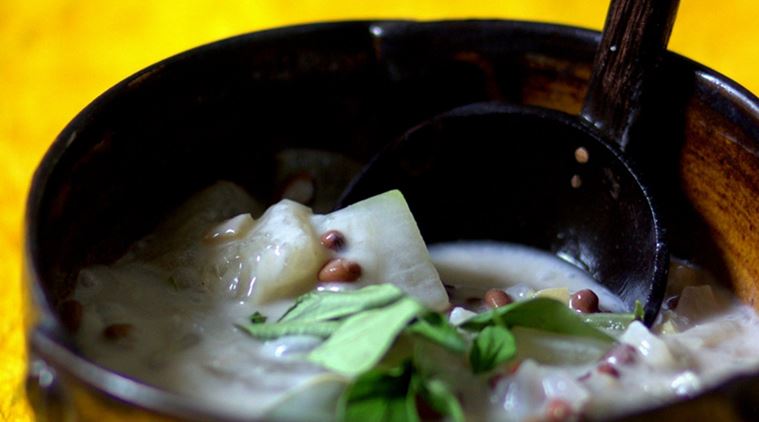 There are two things that I always associate with my hometown of Kerala — the sticky, humid summers and the torrential rain. Since we used to end up in Kerala during the lovely rains thanks to the scorching heat of Kuwait, it was only after I started going to college in India that I was exposed to the damning heat of God's own country.
Honestly, during those months it's like being in Hell's Own Paradise with the constant rivulets of sweat exposing the most vicious person in you. Everyone would descend into an irritable silence at home during such days, and if god forbade the power decide to take a hike, all hell would break loose.
On those days, cooking would be an absolute nightmare. Any time near the hot stove was bound to make you sweat a river and I think that's the reason why many of the curries we make during this time of the year are simple, easy and fuss free.
One such genius dish is the olan. It's a simple, mild curry made mostly with ash gourd and cow peas and is just so, so good with rice and some pickle. Instantly cooling your heated system, it's got the perfect balance of flavours for the summers.
My grandfather loved olan. This rather uninspiring looking dish was hugely popularised by him among the family. After licking his plate clean on being served this, he would say with a twinkle in his eye, "If sambhar is the king, then olan is the minister." And so it has always been for us. And did I mention it's also one of the standard fares for the sadya — traditional Kerala meal served on a banana leaf?
Ingredients
500gm – Ash gourd
100gm – Brown beans
5 – Green chillies
2 – Coconut grated
20mg – Coconut oil
1 stalk – Curry leaves
Salt – To taste
Method
*Prepare the coconut milk by grating and shredding the coconut finely and mixing with warm water.
*Squeeze parts of the paste to get a thick milk known as the first coconut milk (Onnaam paal).
*Keep the shredded coconut in another bowl. Add more warm water to this and squeeze again to get a thin, watery milk known as the second milk (randaam paal).
*Peel the ash gourd and chop into small pieces.
*Slice the green chillies and steam the gourd and chillies along with the brown beans until cooked.
*Add the second milk and adequate salt and bring to boil.
*Stir in the first milk and set aside. Garnish with curry leaves and drizzle coconut oil before serving.

["source-indianexpress"]