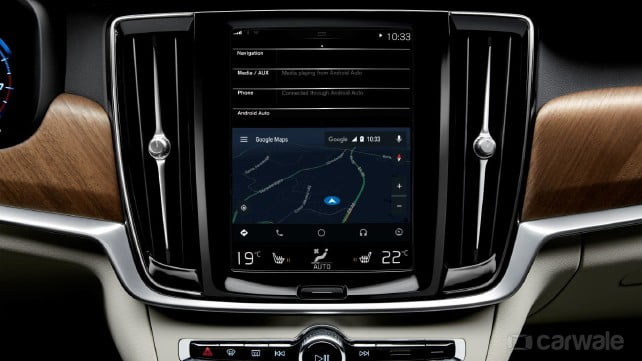 Swedish automaker Volvo has announced a series of updates for its 90 series cars. The updates deliver new safety, powertrain and connectivity options for cars including the XC90, the S90 and the V90. Barring the latter, Volvo is selling the XC90 and the S90 in the Indian market as full imports.
Volvo has updated the smartphone integration in the range which already includes Apple CarPlay, with the addition of Android Auto. It's the only carmaker with a split-screen interface that allows you to use both your smartphone functions and in-car features without changing views. This is primarily a safety-related feature.
Speaking of safety, for the Swedish and Norwegian markets, Volvo is offering two new connected safety systems that will make their debut in the S90, V90 and XC90 – Slippery Road Alert and Hazard Light Alert, which use the cloud to share safety-critical data between cars.
Slippery Road Alert collects road surface information from cars plying ahead and warns the drivers approaching a slippery section of road in advance. On the other hand, Hazard Light Alert forewarns drivers of vehicles that have activated their hazard warning lights on the road ahead, providing the driver with enough time to slow down. These two new connected safety systems will go live in Sweden and Norway initially, with a planned roll-out to other markets.
Besides updated connectivity and more safety, Volvo has also added new Drive-E powertrain variants. The D3 four-cylinder diesel engine can be had with a new 6-speed manual transmission as well as a new 6-speed automatic unit.
The updated XC90, S90 and the V90 will go into production in mid-November. Click here to read our review of the all-new S90.
[source;carwale]