High Pay Centre says £14m earned by Bob Dudley last year during crisis at oil firm shows it is 'losing contact with reality'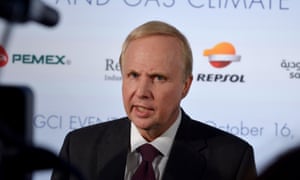 Bob Dudley, the chief executive of BP, earned nearly $20m last year – at a time when the company ran up the biggest losses in its financial history and axed thousands of jobs.
The $19.6m (£14m) remuneration bonanza was condemned by the High Pay Centre as another example of a company losing "contact with reality" when it came to handing out fortunes to top executives.
The 20% year-on-year increase in salary, shares and pension payments was revealed in the oil group's annual report.
Plunging crude prices and continuing liabilities emanating from the Gulf of Mexico oil spill in 2011 led BP to report a record 2015 deficit of $6.5bn.
The company said Dudley deserved his increase in total remuneration because he and his fellow directors had performed strongly at a difficult time.
"Despite the very challenging environment, BP delivered strong operating and safety performance throughout 2015 and responded early and decisively to the steep fall in the oil price.
"The oil price is outside BP's control, but executives performed strongly in managing the things they could control and for which they are accountable. BP surpassed expectations on most measures and directors' remuneration reflects this."
The company also pointed out that the 2015 total pay package was swollen by a $3.5m extra pension adjustment to bring payments under Dudley's US scheme in line with UK financial regulations.
Without the pension and retirement elements in the total package, the BP boss's pay dropped year on year.
But Stefan Stern, a director at the High Pay Centre, which monitors executive remuneration, said it was a terrible example to set at a time when 7,000 staff were losing their jobs.
"This is another example of where a company has lost contact with reality – as well as the English language. Talking about bonuses and performance-related pay at a time of crisis in the industry does not seem like the real world.
"This is why we need employee representatives involved in these kinds of decisions – as a reality check as to what is acceptable and defensible. Is the boss being given a performance-related reward for getting rid of other people?
"We just don't know. The sheer complexity of these pay packages is part of the problem. It means that only advisers and remuneration experts really understand what is going on. That can't be good for transparency."
Executive pay has always been high in the oil and gas sector, with Rex Tillerson, the boss of Exxon Mobil in the US being paid $40m in 2012 while Shell chief executive Ben van Beurden received $26m in 2014.
Even then Van Beurden was not the highest paid executive in the FTSE index of leading London companies, with Martin Sorrell of WPP advertising group receiving almost £30m.
More recently the energy companies have been plunged into crisis by a crude price which was at $115 per barrel in June 2014 but is now down to $37.
BP, like its rivals, has made repeated cutbacks to its staff and capital expenditure in a bid to keep its dividend payments up but the share price has been pummelled. An estimated 70,000 direct and indirect workers connected with the North Sea oil and gas industry have lost their jobs in less than two years.