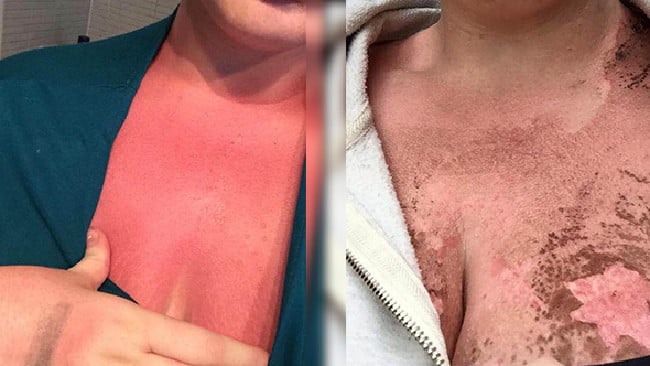 A NINETEEN-year-old Melbourne woman may have to have skin grafts after what she said was a severe sunburn caused by faulty sunblock.
Taryn Hawken, of Pakenham, who has multiple sclerosis, went to an event with her friends last month where she spent most of the day in the sun.
Ms Hawken said she applied Banana Boat Sport SPF 30 sunblock 45 minutes before getting out of the car and said she reapplied "every hour, on the hour".
On the way home her skin started to hurt and by the next day she was in severe pain with blistering all over her body.
The sunburn, which hospital staff told her was one of the worst they had ever seen, caused her to have an MS attack that caused double vision in one eye and severe weakness in her right leg.
She said she was taken to hospital and placed on medication to try and restore her sight and get her leg back to normal.
Ms Hawken said she also had to inject herself each night with a drug to control her MS symptoms.
"I have an 11-month-old and all this is making it near impossible for me to care for him," she said.
"I'm emotionally scarred and physically scarred. I'm in so much pain that I can barely move."
Ms Hawken's mum, Andrea, said her daughter may need a skin graft, and the family was considering legal action.
The effectiveness of Banana Boat sunblocks was brought into question earlier in the year when a nine-year-old NSW boy was badly sunburnt using the products.
In 2015, consumer group Choice tested six sunblocks, including Banana Boat Baby SPF 50+ and Banana Boat Sport 50+.
The products were found to offer "good" protection from the sun but fell short of the manufacturer's claims.
Banana Boat Australia spokeswoman Rachel Pullicino said the company was investigating Ms Hawken's complaint.
She said a number of customers had complained about Banana Boat products but "that for each of the complaints we have investigated to date, invariably there are no quality issues with any of the products tested".
"We want to reassure our consumers that we are confident that all Banana Boat sunscreen products labelled with a Sun Protection Factor (SPF) offer the stated level of SPF if stored and applied as directed on the label," she said.
"Our products are uniquely formulated and rigorously tested to meet the claimed SPF as required by the Australian sunscreen standard and in compliance with the TGA Regulations.
"We understand how awful the effects of sunburn can be, and speaking generally whilst its natural for consumers to want to blame the efficacy of their sunscreen after sunburn, the most common cause of sunburn is the misuse of sunscreen in the application process and also not practising sun safe actions.
"It's important to follow our product label instructions: always store sunscreen in accordance with its labels, use only as directed and reapply frequently as directed.
"We also always recommend, as listed on our product labels, that our customers avoid prolonged exposure to the sun and always wear protective clothing, hats and eyewear."
[Source:- News.au]