Retailer briefed staff about turnaround plan on Friday morning, with 220 jobs to go from stores and 150 from head office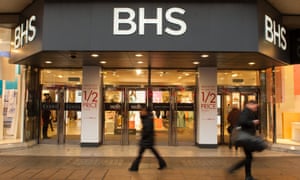 BHS plans to make more than 350 people redundant as the struggling department store chain is forced to make cutbacks.
The job losses, to come from its head office and from stores, are one part of the retailer's turnaround plan and do not include further jobs that could be lost if BHS presses ahead with a threat to close shops.
The retailer intends to make 220 people redundant in stores and 150 people in head office. Another 100 roles that had not been filled in BHS's head office in recent months will also be scrapped, meaning its central operations will shrink by roughy a third.
BHS bosses briefed staff about the job losses and the turnaround plan on Friday morning.
As well as the job cuts, BHS is threatening to close up to half its stores if landlords do not agree to reduce the rents. BHS has filed a company voluntary arrangement (CVA), a type of insolvency proceeding, in an attempt to cut its costs.
A CVA allows a company in financial difficulty to reach a deal with creditors, including landlords, about reducing its liabilities. The agreement must be approved by 75% of BHS's creditors at a meeting scheduled for 23 March. CVAs are legal but controversial in the property industry because they allow a company to walk away from its lease obligations.
BHS has split its properties into three categories in the CVA: 77 stores that are unaffected; 47 stores that it claims are viable but need a reduction in rent to "market levels"; and 40 that need a substantial reduction in rent to survive.
The rent reductions it has proposed are significant. Of the 47 "viable" shops, BHS wants the rent to be cut by 75% on 21 stores and 50% on 26 stores. For the struggling 40 shops it wants to pay just 25% of the rent for the next 10 months while it tries to reach a long-term deal that secures their survival.
BHS's demands on the most at-risk sites are so significant that the survival of all its stores is unlikely. Savills, the property agent, has been brought in to assist KPMG and could dispose of unwanted stores.
Sir Philip Green, the retail tycoon, sold BHS for £1 in March to a little-known collection of financiers, lawyers and accountants. Since then concerns about the future of the retailer, which employs more than 10,000 staff, have grown. It emerged the man who led the buyout, Dominic Chappell, is a former bankrupt, while credit insurers have refused to support BHS's suppliers, meaning the retailer had to pay upfront for stock.
Darren Topp, the chief executive of BHS, said he hoped store closures "will be kept to a minimum". He added: "Although a difficult process to go through, this sets in motion the comprehensive updated turnaround plan that we have identified, and gives British Home Stores a secure financial footing from which to grow and deliver sustainable profitability.
"BHS will continue to trade as usual and we thank our staff and customers for their continued support."