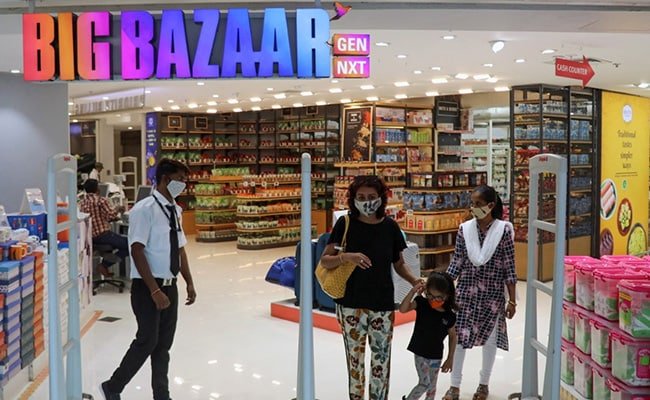 The Supreme Court on Tuesday reserved verdict on a batch of pleas filed by Future group firms against a Delhi High Court order declining stay on an arbitration tribunal decision refusing to interfere with the Emergency Award (EA) of the Singapore International Arbitration Centre (SIAC).
"We reserve the order. All the four SLPs (special leave petitions) are over. A lot of homework for us. Anyway I will not write a lengthy judgment," a bench headed by Chief Justice N V Ramana said.
Initially, the bench, also comprising justices A S Bopanna and Hima Kohli, suggested the counsels for Amazon and the Future group firms that the single judge bench of the Delhi High Court be allowed to hear the statutory appeals of the Future group against the final arbitral award of the SIAC.
The bench said that the pleas, which are arising from the EA's award and are pending before it, may not be "relevant now as the final award of the SIAC has already been passed".
"Your (Future group) first SLP which has challenged Justice J R Midha (Delhi HC) order, we had said that no implementation of that order. We never said Delhi High Court to not hear the matter for what has come up subsequently," the bench observed at the outset.
The top court has reserved its order on two set of petitions filed by FCPL (Future Coupons Private Ltd ) and FRL (Future Retails Ltd).
One set of appeals challenged the March 18 order of the Delhi High Court which besides restraining FRL from going ahead with its deal with Reliance Retail, had imposed costs of ₹ 20 lakh on the Future Group and others associated with it and ordered attachment of their properties.
The second set of appeals have been filed against the Delhi High Court's recent order declining its plea for stay on an arbitration tribunal decision refusing to interfere with the SIAC's EA, which restrained it from going ahead with the ₹ 24,731 crore merger deal with Reliance Retail.
During the hearing on Tuesday, senior advocates Harish Salve and Mukul Rohatgi appeared for FRL and FCPL respectively and the US e-commerce major, Amazon, was represented by senior lawyers Gopal Subramanium and Ranjit Kumar and others.
Salve said for the merger deal to go ahead the adverse orders passed last year on February 2 and March 18 have to be quashed.
The US firm, which has invested in FCPL, has been opposing the deal.
The senior lawyer said the FRL will "sink with 30,000 employees losing their jobs" if the deal with RRL does not go through.
The FRL and FCPL said that they be allowed to go forward with the interlocutory proceedings of the scheme with Reliance to ensure that they would be able to finalise the deal once the dispute with Amazon is concluded.
["source=ndtv"]