Network Rail's hiring of KPMG to market its substations to global investors marks start of privatisation, says RMT's Mick Cash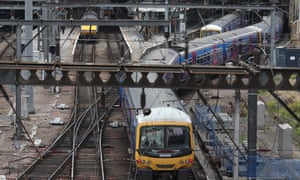 Rail campaigners have denounced moves to potentially sell off Network Rail's power assets as the "thin end of a long wedge" towards privatisation.
Network Rail, which owns and operates Britain's railway infrastructure, including the tracks and many of the biggest stations, has hired KPMG to market its power lines and substations to global investors.
It is the second biggest procurer of electricity in the UK after the NHS, and Network Rail's distribution network includes thousands of kilometres of overhead lines or third rails used to power trains and for signalling.
State-owned Network Rail has been told to find new ways of financing its planned works and has already pledged to raise £1.8bn to offset the overspend in its current five-year plan, by selling off property including retail space in stations and station arches.
Selling off parts of its power network would be the first time that Network Rail had returned core assets in the everyday operation of the railway to private hands.
Its chief executive, Mark Carne, said: "While no decisions have yet been made, if there are investors or others with expertise in key areas who can help us do that, then we should look to embrace those opportunities.
"Continuing the historically high levels of investment in our railway that we've seen over the last decade is absolutely vital if we're to provide the railway Britain needs in the years ahead. Better railways drive economic growth, housing and jobs.
"Our approach is all about financial discipline, with a renewed focus on our core activities while being open and innovative about new sources of finance to fund our growing railway."
The move comes ahead of a review of the financing and structure of rail by the HS1 chief executive, Nicola Shaw, expected to be published alongside the budget on 16 March. The review was commissioned by the Treasury in response to cost overruns in rail engineering projects, as part of a clampdown on spending after Network Rail's £38bn debt was included on the public balance sheet.
The biggest rail union, the RMT, said the move would unleash on rail passengers "the same global energy companies who are currently robbing Britain's domestic power customers blind". Its general secretary, Mick Cash, said: "The proliferation of contractors and subcontractors is already dragging Network Rail's performance down and the flogging off of the power assets would simply up the ante on the fragmentation that is the root cause of many of the daily problems hitting services."
He said the plans were "just the thin end of a long wedge designed to drag the publicly owned Network Rail operations back to the lethal days of the privatised Railtrack".
Railtrack, which ran the railway infrastructure between 1996 and 2002, went bankrupt after presiding over a series of fatal rail accidents, culminating in the Hatfield crash in 2000.
Cat Hobbs, the director of pro-nationalisation campaign group We Own It, which held a protest against further rail privatisation at King's Cross station on Friday morning, said: "All of this selling off of infrastructure is going to make it very difficult to restore a publicly owned railway, which is what the majority of the public want to see.
"It doesn't make any sense to have private monopolies of parts of the infrastructure. We'll lose public control of the revenue and all the incentive will be to create private profit out of those assets – and we saw what happened with Railtrack when the railway wasn't run in the public interest."
Network Rail is also looking at selling off its commercial estate, freight yards, major stations, telecoms assets, depots and land.
The shadow transport secretary, Lilian Greenwood, said: "There are real fears that passengers and taxpayers will pay the price for this fire sale of Network Rail's assets. These plans will leave Network Rail without valuable long-term sources of revenue which could push up both fares and the overall cost of running the railway.
"This sale is going ahead because the cost of major projects has skyrocketed, but Tory ministers kept quiet about the scandal until after the election."
[Source:- Thr Gurdian]b