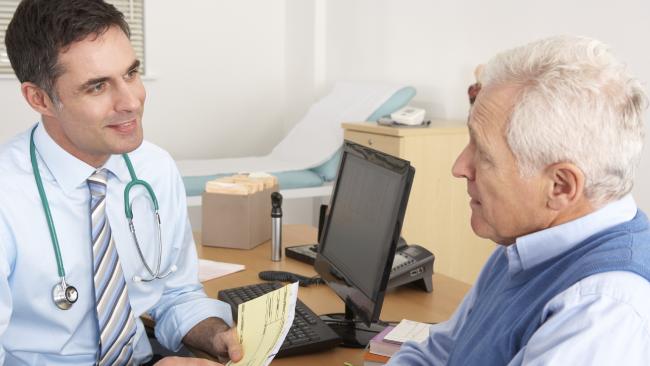 ONE million Australians will automatically have their personal health information uploaded onto the internet from July as the government tries to resurrect the failed $1 billion e-health record.
More than 360,000 residents of Penrith in Sydney's west and 700,000 in North Queensland will be the first to trial the new opt-out My Health Record.
The record will contain a summary of their health status put in by their doctor, records of their medicines and allergies and eventually links to x-ray and medical test results.
Patients in these areas will have to notify the government by June if they do not wish their personal health information used in such a record.
The e-health record introduced by the previous Labor Government in 2012 has cost more than $1 billion but only one in 10 or around 2.5 million Australians have one.
Only 78,000 health summaries have been uploaded and virtually no doctors are using the records.
And e-health experts have warned the eight-year-old policy that underpins the records is so outdated it was written before the cloud and tablet computers, the first iPhone was less than a year old, Twitter was not open to the public, neither Google Chrome or streaming existed and there were only 500 apps on the Apple App store in 2008.
While the policy has yet to be brought up-to-date, the Coalition government hopes to make the record effective by switching from an opt in to an opt-out system.
This means Australians will automatically be given a record and have to opt out if they wish to protect information about private medical information such as abortions, mental health and sexual disease problems.
Health Minister Sussan Ley will on Friday officially launch the new My Health Record and says the Government is particularly focused on protecting patient privacy.
Fines up to half a million dollars and even jail sentences apply to anyone who tries to deliberately misuse or access information in the health record.
Patients would have ultimate control over who accessed their information, including adding additional password protections, she said.
They will be able to lock down access to specific GPs or hospitals, view every person who has opened the record and delete files that are unwanted.
Ms Ley said a lifesaving "break-glass option" was included in the new My Health Record, allowing patients to have maximum security protections while also not having to worry about blocking access to their vital information in medical emergencies such as anaphylaxis, heart attacks, stroke or accidents where a patient is unconscious.
The record would mean people will not have to remember the names of their medications, details of diagnosis and treatments, allergies, medical procedures and there will be no need to repeat the same information when they see another doctor or go to hospital, she said.
"I consider this a landmark turning point in improving our health system and bringing it into the 21st century," she said.
Doctors say they're unlikely to use the system until a critical mass of patients have a record but they are also concerned a patient may be able to make changes to the record without consulting a doctor and claim it can't be trusted if this is the case.
To encourage doctors to start using the records the Government will from May require them to upload shared health summaries to five patients records every quarter in return for an e-health incentive payment worth $50,000 a year.
The government also estimates a fully-functioning national e-health system could save taxpayers $2.5 billion per year within a decade by reducing inefficiencies, with an additional $1.6 billion in annual savings also delivered to the states.
[Source:- News.au]