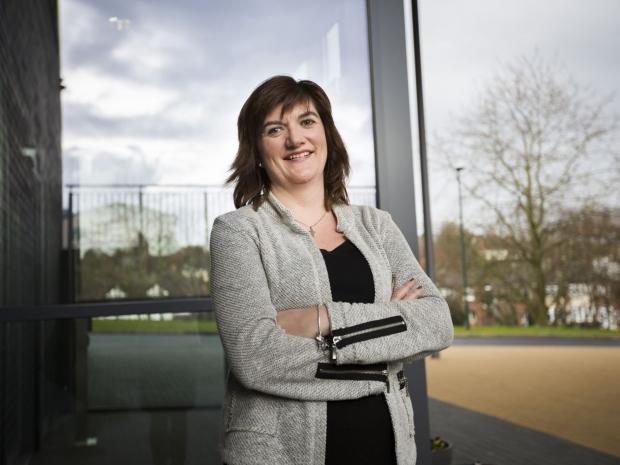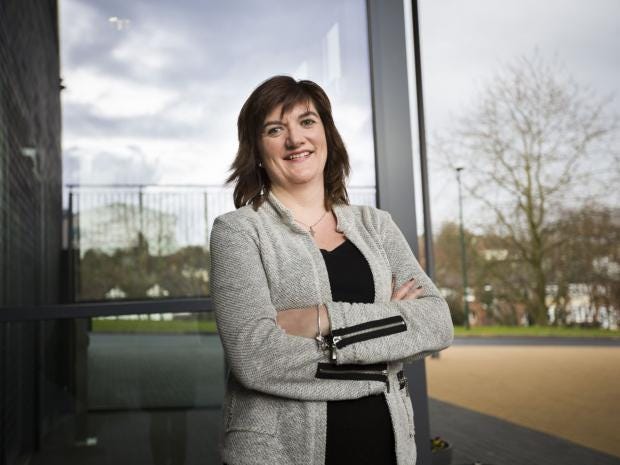 The Secretary of State for Education may be the mother of a school-age child, but she's rather more nuanced than the working mum cliche. In fact, Nicky Morgan is hard to pin down. One moment it's all a bit Middle England – family finances, children's rugby and the school run. The next it's classroom sexism, trans rights and cross-dressing MPs.
In many ways, she's a classic suburban Tory – the daughter of a barrister from south-west London, educated at the local private school, trained as a solicitor. But she's no stereotype. Like George Osborne, her former boss, she's comfortable on classic "liberal lefty" turf.
On feminism, she certainly doesn't hold back – attacking the "unconscious bias" of old-fashioned head teachers and school governors holding back women in schools.
READ MORE
Nicky Morgan 'waged a valiant battle' to make sex education compulsory
Speaking ahead of International Women's Day, Mrs Morgan – whose husband stays at home to look after their son – hits out at the lack of female heads, labelling it a "crippling waste of talent". Three-quarters of teachers are women, she says – but only 37 per cent are school heads.
To tackle the problem, Mrs Morgan calls for a revolution in part-time working in schools and reveals that the Government is to set up a dating-style website for teachers looking for job-share partners – as well as a new programme of classroom "mentors" to help mothers back into schools.
Mrs Morgan, who is also Equalities minister, revealed that a £1m fund will tackle transphobic bullying. She warns parents not to stereotype their children and predicts a future in which all the top political jobs are filled by women. And of education, she says: "Only one in four female teachers work part-time, compared with nearly half the women in the workforce nationally."
A programme will be launched to make teaching a more attractive long-term career for women, with 1,000 new career "coaches" to push female teachers into the top school jobs. Mothers hoping to return to paid work will be given personal coaching and training to "smooth the transition back to the classroom".
Mrs Morgan also wants high-flying teachers to sign a pledge offering their time to coach at least one woman to develop their career. The programme, she says, is about "giving women the confidence to come back into the classroom".
It prompts the question, is teaching a sexist profession? "I doubt that it is worse than many others," she says – refusing to deny that it is. "The issue is, until you help women to senior positions to become role models it's a self-perpetuating cycle. Actually, what you need is to help women to get to those senior positions. You've got to get the people who make the appointments, who draw up the job specification.
"If you have a chair of governors who has a very fixed view of what a head teacher looks like – then you are never going to change the mould and that's what we must change."
She says there is a danger of "group think", if all the top positions are dominated by men, which is closer to "unconscious bias" than "institutionalised sexism".
Isn't all this a bit patronising, though? After all, she managed to go back to work after having a child –why can't other women? "The only reason I am able to do this job is because [my husband] is at home with our son," she says. "We want people to do what is right for themselves and their family circumstances."
If things go right for Mrs Morgan her circumstances could change dramatically over the next few years. She is one of the few MPs to declare that she wants to be the next Tory leader. And she's keen to practise what she preaches when it comes to women in top jobs. "There are no jobs around the Cabinet table that are jobs for men or jobs for women. They are jobs for the right person."
Can she foresee a time when there will be a female Prime Minister, Chancellor and Home Secretary?
"Oh, yes, absolutely. We will have achieved some equality in politics when nobody talks about it. They would never talk about there being three men in those jobs."
But asked whether the truest test of equality is when an average woman can reach the top, she's quick as a flash – after laughing out loud: "Thank you for inviting me to speculate on average men in politics, but maybe not at this point."
She clearly detests all forms of stereotyping – from the classroom to the Cabinet. And she's unafraid to tell parents they also have a duty to tackle sexism. "There will be some girls who love pink. But there will be as many girls who absolutely loathe pink. Children should be free to choose these things. I think it's incumbent on all of us – parents and others – not to fall into the trap of stereotyping."
It's a dangerous road to go down – giving family advice. But she is insistent: "It's too easy to say sometimes, that's not a boy thing or a girl thing. You have to stop yourself."
Mrs Morgan is unafraid of wading into controversial rows. She is quick to rule out banning rugby in schools over safety fears – insisting it is good for developing "character".
She is even happy to side with Labour's celebrity backer Eddie Izzard over David Cameron in the debate of "proper" attire in the Commons chamber.
Should cross-dressing men be allowed to wear women's clothes in the Commons? "It would be great to see," she says. "I'm pretty sure the House of Commons in the 21st century can absolutely cope with that … we want great people to be MPs. If we are going to represent a country we have to be as diverse as the country we aspire to represent."
[Source:- Independent]