German-owned business said it would cut jobs in the UK and overseas in the next two years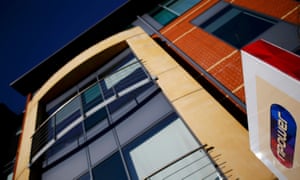 Npower plans to cut 2,400 jobs – a fifth of its workforce – to reduce costs after losing customers, offering bad customer service and suffering poor financial results.
The German-owned business, one of Britain's big six energy providers, said it would cut the jobs in the UK and overseas in the next two years. It employs 11,500 people directly and through outsourced services, 7,500 of whom work directly for Npower in the UK.
Npower did not say how many jobs would be lost in the UK but it said the cuts would be made from staff and outsourced workers.
It will keep its three British "hubs" in the Midlands, Yorkshire and the north-east but the decision to withdraw from many energy services will affect the Midlands most. The number of sites will be cut from 26 so that operations are grouped around the three hubs.
The company said the cuts were part of a plan to reduce costs, simplify the business and improve customer service. Unions reacted angrily when news about the job cuts emerged at the weekend.
Npower unveiled the job cuts as it announced a loss of £99m at its domestic energy business for 2015 compared with a profit of £183m a year earlier. It said the loss was caused by intense competition, falling sales volumes and the cost of systems problems that started in 2013.
Paul Coffey, the chief executive of npower, said: "We have looked at every part of npower, and over the next two years we're fundamentally changing how the company operates. By 2018, around 2,400 fewer people will support npower overall through a mix of those who work directly and indirectly for npower.
"I regret that, as we simplify and streamline our activities, this will mean inevitable job losses but I am convinced that these steps are critical to protect the thousands of jobs that will remain."
Npower lost 424,000 customers last year, or about 7% of its business, taking the total to 4.77 million. In December, it was fined £26m for sending out late and often inaccurate bills and failing to handle customer complaints effectively.Ofgem, the energy regulator, said more than 500,000 customers had been affected and npower's parent, RWE, said the mistakes were embarrassing.
Some British households reportedly received multiple bills for varying amounts that did not match meter readings. In other instances the names on bills were incorrect, bills arrived late or not at all.
In recent years, npower has closed UK offices and transferred customer service work to India and the outsourcer Capita. The company said its restructuring plan would improve customer service and that customer complaints fell sharply late last year as it got to grips with the problems.
As well as persistently low wholesale electricity prices, npower has faced competition from newcomers such as Ovo and First Utility. Its job reductions follow announcements of cuts at Centrica, the owner of British Gas.
[Source:- The Gurdian]