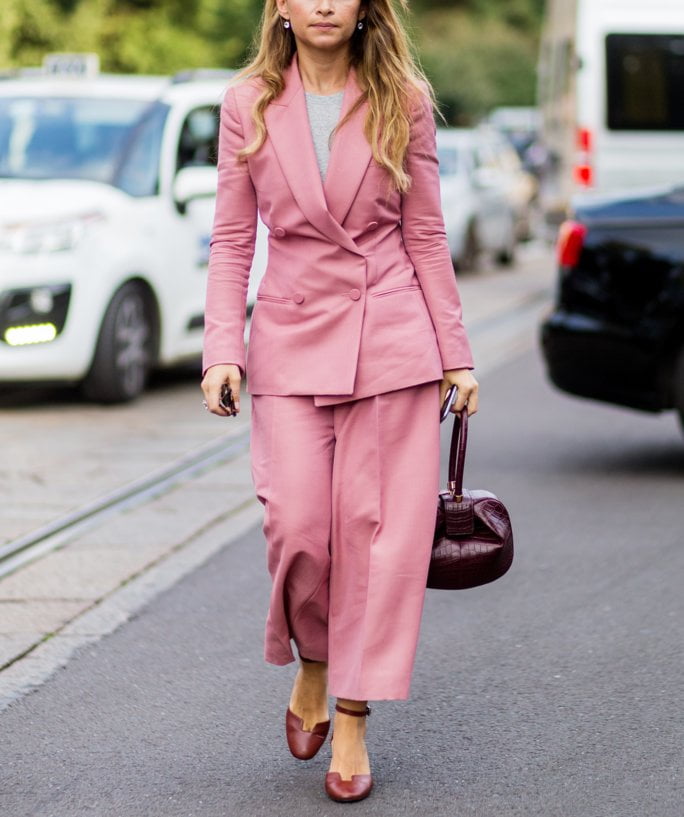 For a long time, pantsuits were often criticized for being too conservative, too predictable, too outdated. Even as recent as two years ago, we were dismissive of the good ol' suit, preferring to play favorites to a solid sheath or polished columns as the answer to power dressing. "As much as gender roles are fluctuating in the nation's workforce (especially since women began outnumbering men for the first time five years ago), so too are the old rules about dressing for success," we wrote.
But now—of course—we're eating our words. The fashion tide has turned. The pantsuit is back. And we're in love. Of course, Hillary Clinton and her two decades' worth of pantsuits has something to do with it, especially now that she's shattering the ultimate glass ceiling as the first female presidential nominee in history. National Pantsuit Day (that's today) has even been created for that very reason. Pantsuits, themselves, have come a long way from the giant '80s shoulder pads and super boxy shape (oh wait, that's in again, thanks to Vetements). The ones today boast a modern cropped cut, saturated in unexpected shades (think: fuchsia and olive), or blanketed in velvet (this season's biggest textile). Embrace the pantsuit like the boss that you are with our nine favorites, below. Happy National Pantsuit Day!
COURTESY

1.

MANGO

A traditional print with a very modern cropped silhouette.

Shop the look: Mango blazer, $130; mango.com. Mango pants, $80;mango.com.

COURTESY

2.

J.CREW

Who needs red? A pantsuit can be pretty powerful in hot pink.

Shop the look: J.Crew blazer, $248; net-a-porter.com. J.Crew pants, $168; net-a-porter.com.

COURTESY

3.

3.1 PHILLIP LIM

The fabric may be soft, but this look reads tough all the way.

Shop the look: 3.1Phillip Lim blazer, $1,050; 31philiplim.com. 3.1 Philip Lim trouser, $750; 31philiplim.com.

COURTESY

4.

ARGENT

A case for olive, the new neutral. P.S.: This blazer has a super functional (read: super brilliant) inside pocket, perfect for stashing your phone during meetings.

Shop the look: Argent blazer, $325; argent.com. Argent trouser, $225;argent.com.
[source;Instyle]