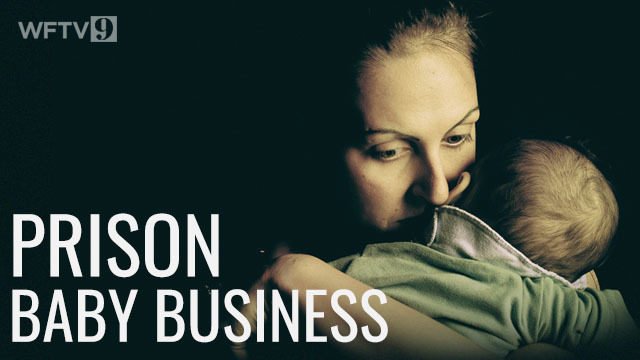 OCALA, Fla. – 9 Investigates learned adoption attorneys are paying for food, clothing and other items for inmates serving sentences right here in Central Florida, in anticipation of being able to adopt out those inmates' babies.
Though some describe it as 'buying a baby,' it's legal, and one particular attorney has been supporting both pregnant inmates and others financially, for several years.
Inside Lowell Correctional Institution, north of Ocala, thousands of Florida women are serving out sentences.  Among them is a population often forgotten; unborn babies with uncertain futures.
"I didn't know what I was going to do with my child," a former inmate told Investigative Reporter Karla Ray.  "I was safe, I knew where I was going to go, but I didn't know what I was going to do, and it was scary."
The former inmate who went on the record with 9 Investigates agreed to do so under the condition of anonymity, because some of her own family members don't know she gave up a baby for adoption while serving a Grand Theft sentence inside the women's prison.
"I just want him to know I did it so he could have a better life.  I didn't want him to suffer from my mistakes," the former inmate said.  "I was in a rough part of my life, and I did what was best for him at the time.  I'll always love him."
9 Investigates learned through speaking with several former inmates and employees, that choice is often met with large financial incentives by private adoption attorneys.  The woman who spoke on the record with us received $5,000, which was split into a prison commissary account and a lump sum given to a family member outside of prison.
Karla Ray asked, "For some people, can you see them making this decision because of that?"
"Definitely.  Yeah.  Because when you're in prison, and you have nothing and all these people have stuff, it's hard it's hard to sit with nothing," the former inmate said.
One adoption attorney who admits to working such agreements with pregnant inmates every other week inside Lowell is Lynn Lawrence.  We traveled to her office in Morriston to talk with her about what some described as a 'baby broker business.'
Karla Ray asked, "Is it right to offer a financial incentive to women in a vulnerable situation like that?"
"It's not like buying a baby," Lawrence said.
It is illegal to sell a minor, but under Florida law, adoptees or adoption entities can pay for expectant mothers' prenatal care, living expenses, or medical expenses up to 6 weeks after a baby is born.  For inmates, much of that is already covered by your tax dollars, but extra food, water, clothing and hygiene items must be purchased by inmates through the prison's canteen.
"That's why they get canteen checks, because I want to make sure the baby is taken care of," Lawrence said.
"Chips, soda, stuff that makes you feel more comfortable being there, it sucks when you have nothing, so, it's nice to have money while you're there," the former inmate said.
Over the last 5 years, there were at least 369 pregnant inmates at Lowell.  The Florida Department of Corrections notes those inmates arrived pregnant for their sentence.
Lawrence says she's helped adopt out around 10 babies per year from the prison, declining to say how much she has made off the deals done beyond the barbed wire.
"All adoption agencies and attorneys are trying to make the best situation possible," Lawrence said.
The alternative to private adoption presented to inmates is working through DCF contractor Kids Central, to identify temporary or permanent caregivers within the inmate's family.
If no one is suited or available, the child could end up in the state welfare system, which is something the mother we spoke to says was her greatest fear.
"People say, 'you're selling your baby, you're doing this,' but I did it for my child, because I wanted him safe," she said.
Lawrence told us she is not the only attorney who goes into Lowell to talk to inmates about adoption, and she points out that she is never the first to initiate a meeting; inmates call her.
The Department of Corrections told us they were unaware of this practice, and any suspicions of illegally-handled adoptions should be reported to law enforcement.
["Source-wftv"]