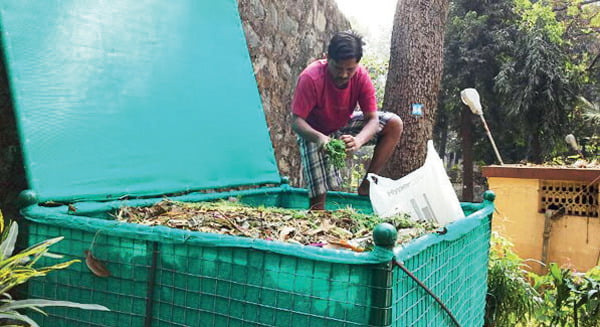 Shatadal housing society in Andheri has been successfully composting for three years
50 housing societies were distributed compost tumblers to encourage recycling of waste.
As the country celebrated its 71st Independence Day on Tuesday, 50 societies in Mumbai's western suburbs pledged to join the fight against city's mounting waste predicament and vowed to recycle and reduce their waste. Thousands of residents from in and around Andheri gathered at a function in the presence of megastar Amitabh Bacchan, and took it upon themselves to adopt a zero-waste lifestyle and rid their surroundings of trash.
The cause garnered support from local political parties, with BJP MLA Ameet Satam distributing composting tumblers and solar panels to residents to propagate the recycling method in their daily lives. The BMC has announced compulsory segregation of dry and wet waste from October onwards.
The BMC's decision to make segregation of waste compulsory in housing societies has come as a bolt from the blue for Mumbaikars. The civic body has asked all societies larger than 20,000 sq mtrs to segregate their generated waste at source and compost the wet waste within their premises. The idea is to ensure that lesser waste piles up at the city's dumping grounds already saturated under tonnes and tonnes of garbage.
In order to take the initiative ahead, Satam even distributed 50 composting tumblers to the housing societies at the Independence Day event to get them to begin the green initiative at the grass-root level. The event was attended by Amitabh Bachchan as its chief guest, who is incidentally also the brand ambassador of PM Narendra Modi's pet campaign – the Swacch Bharat Abhiyan. Besides, being a resident of Juhu.
"I have been encouraging societies in my area to use solar panels in order to save energy. And now that the BMC is going to stop accepting wet waste from large societies, I decided to give them an incentive to undertake composting in their areas. The society which manages to send zero waste to dumping grounds for six months will be gifted with solar panels," Satam told Mirror.
One such society in Andheri – the Shatadal society – has been at the helm of responsible garbage disposal since three years already. The resident of this society have been successfully composting their wet waste in two vermicompost bins that are placed in their premises, thus managing to generate zero waste.
In the Tuesday event, they were lauded for their efforts and hailed as an example for others to follow. Now the society is set to create clean energy with the help of solar panels that were gifted to them.
Rupa Divetia, member of Shatadal housing society said, "We have been doing this since since 2012. Members of our society have now started segregating at source. The dry waste is then given to scrap dealers while wet waste is made into compost."
Another area, Manish Nagar, was given a composting plant as it generates close to 500 kg of waste every day. Lalit Khetwani of Manish Nagar said, "We completely support the initiative. Our area consists of 2400 flats and therefore we are bulk generators of garbage. The compost generated from the plant will be used for our own garden."
Satam and other BJP corporators from the area have also been working towards clean-up of Juhu beach.
["Source-mumbaimirror."]