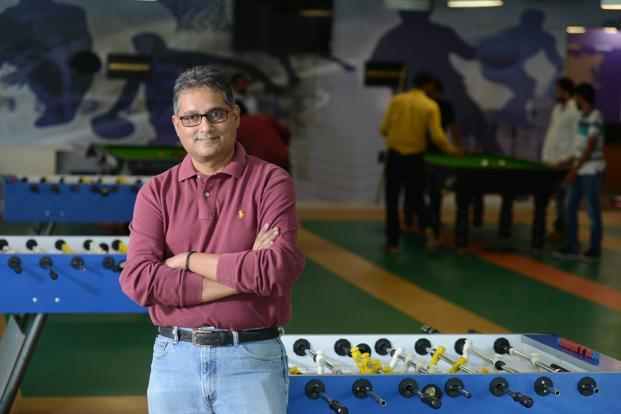 Amazon India's HR head Raj Raghavan. Photo: Hemant Mishra/Mint
New Delhi: Summer internships give companies a long enough opportunity to asses a student, as compared to 15- to 30-minute interviews during campus placements. Additionally, it also helps a student to check out if the company is a good employer.
E-commerce firm Amazon India converts 60% of their summer interns into full-time employees through pre-placement offers, Raj Raghavan, head of human resources, Asia Pacific, at Amazon, told Mint in an exclusive interview. "We have a fairly good idea about what we want an intern to come and accomplish when the intern comes to us and that helps us assess them better," he said. Edited excerpts:
What are the key skills Amazon India is looking for?
We are a technology company that is obsessed with customers. Technology is the backbone of how we do things. In terms of specific skills, mobile, cloud computing, machine learning, data analytics are key tech skills we are hiring for, among others.
Beyond technical skills, we look for customer obsession in people, ownership, those with high value for action among others. We don't think skills forward, we think customer backwards. The key is adjacency of skills—we use the word "fungible"—skills that are fungible to do other things.
Our talent acquisition strategy is a combination of "build" and "buy"—where we need to buy, we will buy, but our focus will also be on building skills. We know that we're not going to get the exact skills that we need. The internal talent management programmes help us train our employees better.
What is your campus hiring strategy?
Our campus strategy is not just around hiring from the campuses. We continue to work within them beyond just hiring. We have signed memorandums of understanding (MoUs) with some colleges to help develop specific competency. To cite few examples, as part of our MoU with IISC Bangalore, we sponsor research chairs and PhDs on Big Data and Analytics and Machine Learning. We have a MoU with IIT Madras for research on Machine Learning. We are also working closely with IIIT Hyderabad to develop a program with for their students.
We also connect with campuses through contests. For instance, the Amazon Customer Excellence (ACE) Challenge, in its fifth year now, is an innovative inter-collegiate case study competition open to teams from top business schools in Asia. As a part of the contest, real cases are forwarded to the B-school students and participants need to come up with solutions.
Code Wizard Challenge is a similar competition for engineering colleges, in which participants innovate, decode and solve real-world complex technology challenges that are core to Amazon.
What share of your spending at Amazon India is budget for talent?
We use our investments appropriately. We use it as we need it. We have a good talent acquisition team… lot of our sourcing efforts come from our own team. We also use external search firm, but it is a combination and budget is not a constraint for any of our efforts.
Will you focus on hiring the surplus experienced talent in the e-commerce being fired by some companies, over fresh graduates?
You need to have a good combination for both. You cannot say we will hire only senior talent and not anybody from campuses and vice versa. We will continue to hire experienced candidates. We will hire across levels, across expertise. End of the day, it is important to have the right match of skills with some amount of fungibility for the roles.
What percentage of your overall campus hires are through the PPO (pre-placement offers) route? How do you train them?
We convert more than 60% of our interns into regular hires.
It is beyond just training. It is about having real roles for interns to perform and not just using them as another pair of hands, but deal with them respectfully both intellectual respect and emotional respect.
Even before we go to the campuses, we have a fairly good idea about what we want an intern to come and accomplish.
Do internships help you assess candidates better?
Internships give you a long enough opportunity than an interview to check out. The intern checks it out if we are good for her/him as an employer.
We too are able to look at the intern over a period of time and find out the areas he/she needs to develop and is good at.
We think everyone having a superpower… we are not looking for absence of weaknesses, but we are looking for superpowers.
As employers, we can then look at various opportunities an employee can have. We want to make internships an exciting experience to come and solve real problems and get a good feel of our culture.
What you like about fresh graduates?
We like their energy, passion, willingness to roll up their sleeves, desire to find an answer when a solution doesn't exist, ability to dive deep into specific issue and not just stay at a superficial level and their ability to look at a problem differently thereby finding a solution that is good for our customers.
What do you like about institutes you hire from?
Their overall orientation to understanding the customer needs… to simplifying solutions rather than complicating them… having the mindset of owner and wanting to solve problems and having a bias for action. These are things that certainly help.
Anything that you would like to change in the college curriculum…
Some skills cannot be developed overnight. For instance, machine learning …it requires deep thinking in terms for curriculum, experienced professors and hands on expertise to train one to become a machine learning scientist. We work closely with some institutes and they know what we are looking for.
We are happy to bring interns for a longer period, not just two months… bring in professors who can co-create work with us. That is something we are focused on.
What is your secret to success?
One needs to go deep… also know when to dive in and dive out. May times, people go so deep that they can't dive out. You need to be super-resilient—that is a big part of a long-term career.
Career is like a marathon—you need to take the right gaps at the right times and you need to be able to pause at a few points, store energy… you need to be a great problem solver. If you're not a problem solver, you will not be able to innovate. Lastly, you need to be great in hiring and developing people.
["Source-ndtv"]