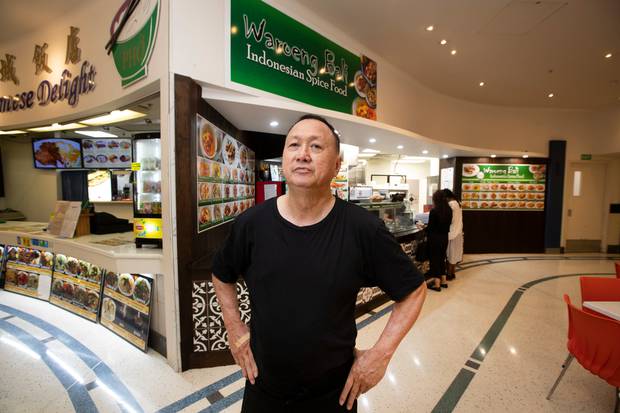 Auckland central city businesses are reeling from the impact of the coronavirus outbreak; some reporting business dropping by 90 per cent.
Restaurants and hospitality businesses are losing about $6 million per week, and the figure is expected to rise, according to the Restaurant Association.
The Weekend Herald visited several Queen St businesses where operators say they are struggling to make enough to pay their rent and on some days, not even enough to pay their power bills.
At the Atrium Food Court, which is normally crowded on a Thursday at lunchtime, more than half the tables were empty.
"Our business is down by half, but we are still one of the lucky ones because there are some who are down 60 to 80 per cent," said Freddy Iskandar, who owns Waroeng Bali, an Indonesian food stall.
"We used to make more than $1400 a day, easy. Now we consider it a good day if we can get $700, and that's not enough to cover our rent and overheads."
Iskandar says he does not know how long his business can keep going if the situation doesn't improve.
The extent of the damage to the global economy caused by novel coronavirus COVID-19 moved further into focus today as UN economists announced a likely USD 50 billion drop in worldwide manufacturing exports in February alone. Video / AP
Jessie Jiang, owner of beauty salon Amore in The Strand Arcade, said business was down 80 per cent from before the outbreak started.
"Most of our customers are local Chinese, many of whom are not coming out, while others are stuck in China," Jiang said.
"Our other big group of customers are tourists and international students, and these also have become non-existent."
["source=nzherald"]