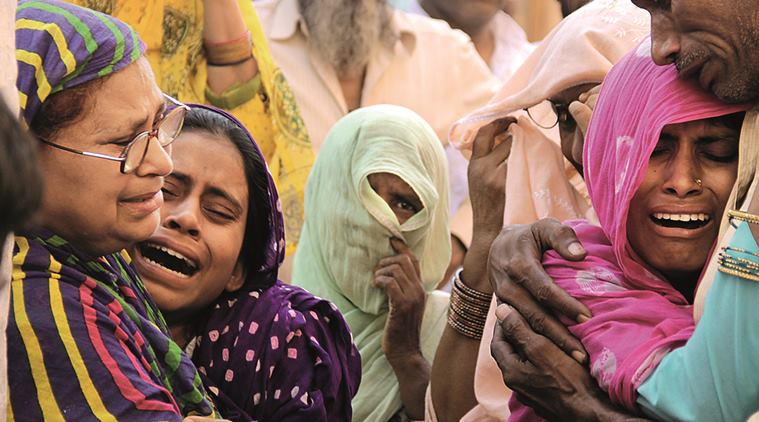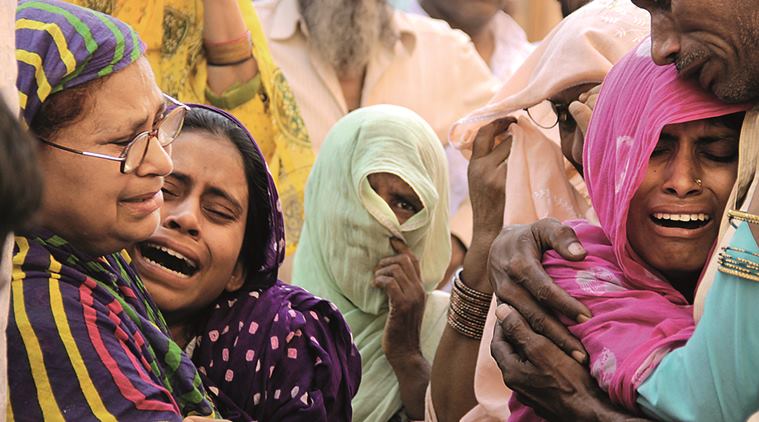 A day after a local district court directed police to register an FIR against Mohammad Akhlaq and six others, they were booked under sections of prevention of cow slaughter act and animal cruelty act at Jharcha police station Friday.
Akhlaq, 50, was beaten to death in Dadri's Bisara village on September 28 last year, following allegations of cow slaughter and beef consumption.
"An FIR has been registered in the Bisara case, as per the court's orders, under Section 3/8 of the Prevention of Cow Slaughter act," said Dharmendra Yadav, senior superintendent of police, Gautam Budh Nagar.
Dadri Circle Officer Anurag Singh confirmed that the FIR has been registered against seven persons — Akhlaq, his mother Asgari, wife Ikraman, daughter Shaista, son Danish Mohammad, brother Jaan Mohammad and his nephew's wife Sona.
However, police sources told The Indian Express that they would investigate where the meat recovered at the site of the crime came from.
"All aspects of the case will be investigated and persons whose names have come up in the petition as well as members of Akhlaq's family will be questioned. Following this FIR, as well as the laboratory reports, the source of the meat and its location will be investigated. This will be done by questioning all those witnesses whose names have been mentioned. The detailed recovery memo will also be examined," said a senior official of Gautam Budh Nagar Police.
The meat recovered from the crime site was examined twice.
A preliminary meat examination report — dated September 29, 2015 — by the veterinary doctor at Dadri's Government Veterinary Hospital had said, "Prima facie, it seems this meat belongs to goat progeny." However, the laboratory had also asked the administration to get the samples tested at the forensic lab in Mathura for a "final diagnosis".
Another meat examination report — from the office of the joint director, forensic investigation laboratory of UP University of Veterinary Sciences and Animal Husbandry, Mathura — dated October 3, 2015, said the sample belonged to a cow or its progeny.
After the release of the second meat examination report over a month ago, Surajpal, a resident of Bisara, filed a petition in the Surajpur court. He sought court orders for an FIR against seven members of Akhlaq's family on charges of cow slaughter and animal cruelty.
In the petition, Surajpal claimed that hours before he was killed, Akhlaq had initially told a crowd that the meat in his fridge was mutton. The petitioner claimed that while some people accosted Akhlaq near a transformer in the village, others went to his residence and took the meat, and "remains of some animal in a vessel", and brought it to the site.
Surajpal claimed Akhlaq then admitted his family had slaughtered a stray calf (of a bull), accepted that he made "a huge mistake" and asked for forgiveness from the crowd.
According to the statements of Akhlaq's daughter Shaista and younger son Mohammad Danish, a mob had surrounded their house in Bisara, dragged their father out of the house and beaten him to death. They also refuted all allegations of cow slaughter.
"We did not kill a cow. The people, who came to our house, took the meat out of the fridge. That was goat's meat sent by our relatives. They took the meat with them," Shaista said, in her statement recorded before the magistrate.
A document, attached to the charge-sheet submitted in court with regard to Akhlaq's murder case, states, "The local police recovered suspicious meat (weighing) around 2 kg… from the street near the bada (big) transformer in the village."
Questioning the authenticity of claims about beef being found in Akhlaq's house, his brother Jaan Mohammad said, "No kind of meat was recovered from inside the house, police themselves have said so. The meat was recovered by police from the streets. The accused claim they took the meat out of Akhlaq's fridge… in their complaint, they say two people saw Akhlaq bhai throwing a polythene bag on September 28, and then he was beaten up. Until now, they were saying that they did not beat up Akhlaq… now, they are accepting it… all these things are being done to put pressure on us."
[source;indianexpress]