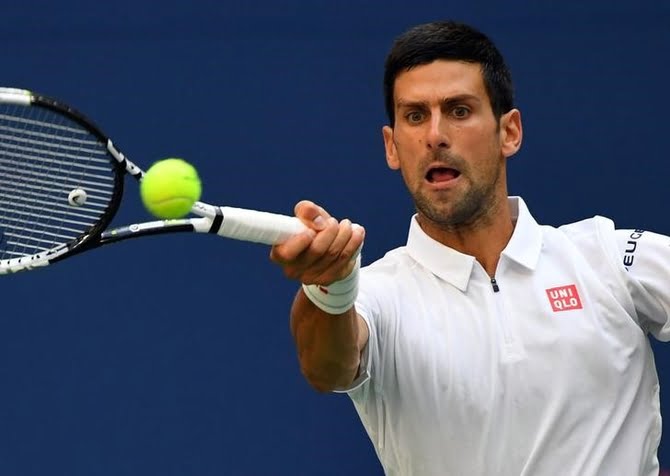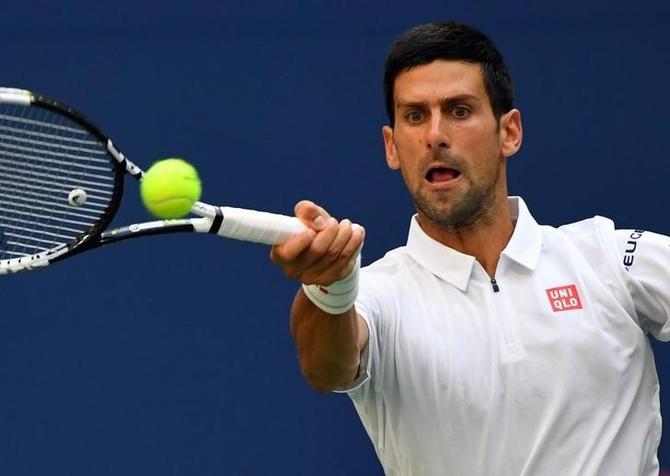 World number one Novak Djokovic has enjoyed a whirlwind trip to Sunday's U.S. Open final, but the top-seeded Serb expects hard work ahead when he meets Stan Wawrinka at Arthur Ashe Stadium.
Defending champion Djokovic, who became the third man to hold all four grand slam singles titles at once after his triumph at Roland Garros in June, owns a 19-4 career head-to-head advantage over the Swiss third seed.
He leads 4-2 in grand slam meetings against Wawrinka, with three of Djokovic's victories going five sets, including a memorable 2013 Australian Open fourth-rounder decided 12-10 in the fifth set.
"He's a big match player. He loves to play in the big stage against big players, because that's when he elevates his level of performance," said 12-times slam winner Djokovic. "He just gets much better."
Gifted by a second-round walkover and two retirements along the way, Djokovic has spent less than nine hours on court, completing 13 sets through six rounds at Flushing Meadows, reaching the final 6-3 6-2 3-6 6-2 over 10th seed Gael Monfils.
The hard-working Wawrinka has been on court twice as long, 17 hours, 54 minutes, playing 23 sets.
He advanced 4-6 7-5 6-4 6-2 over sixth seed Kei Nishikori after surviving a match point in his five set, third-round match against unseeded Daniel Evans of Britain.
The 'big match' Warwinka, whose indefatigable determination brought him the nickname "Stanimal", has won his last 10 finals.
The contrasting path to the final suits both players.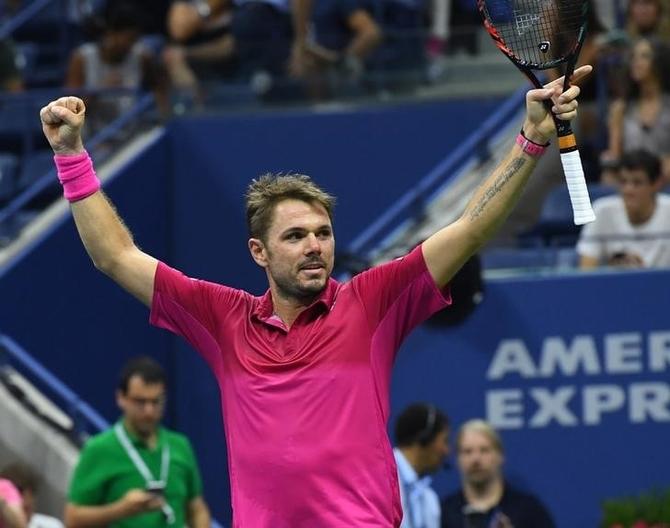 IMAGE: Stan Wawrinka of Switzerland reacts after beating Kei Nishikori of Japan on day twelve of the 2016 U.S. Open. Photograph: Robert Deutsch-USA TODAY Sports/Reuters.
Wawrinka prefers to build momentum in order to bring his best at the finish.
"We've had many big memories together, especially in grand slams, so it's going to be an exciting match," said Wawrinka, who is playing his first U.S. final and beat Djokovic on the way to his slam titles at the 2014 Australian Open and 2015 French.
"Because the biggest matches, it's the end of the tournament. Final, semi-final, and I had matches to get confidence to play well match after match."
Djokovic came to Flushing Meadows showing signs of wear and tear after losing in the third round at Wimbledon and the first round at the Rio Olympics while dealing with a nagging wrist injury, and considers his relatively easy ride a "blessing".
"Before this grand slam there were things that were happening with my health and physical state that were making me a little bit sceptical…
"I was blessed to have more days off with no match so I could focus on the recovery and work things in my game and take things easily and to get to this phase," said 29-year-old Djokovic.
"I don't have any (physical) concerns. I have lots of excitement for the finals."
Wawrinka, 31, thinks their differing styles helped make many of their matches memorable.
"I think the matchup always been interesting to see because the way we are playing," said the Swiss, who owns a devastating one-hand backhand stroke. "I'm trying to be aggressive. I can play really hard.
"He is amazing defender.
"When you play Novak, even playing your best tennis you can also lose. So it's gonna be, I hope, a big match, and hopefully I can keep winning."
[source;rediff.com]