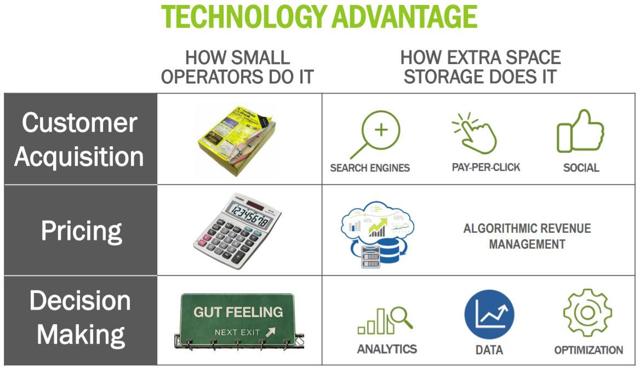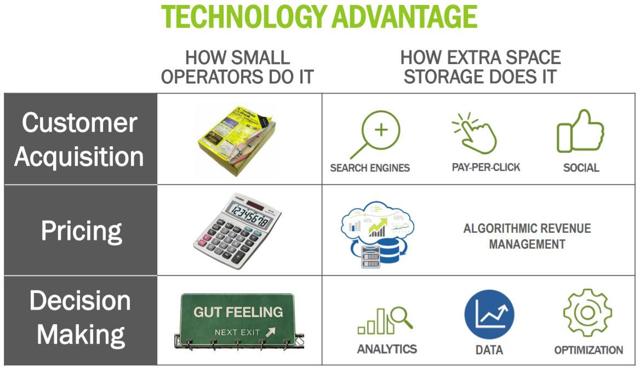 In the September issue of Forbes Magazine, I wrote a "How To Play It" column on the Self-Storage REITs. I wrote that "self-storage has been a growth business for decades" and "if you consider the urbanization going on here and in emerging economies, the sector's long-term prospects are excellent."
I went on to explain that "the internet and technology have also played a large role; search-engine optimization and call centers are reeling in customers more efficiently than ever." I added that these "tech advantages" include "sophisticated revenue management algorithms" that can help "optimize rents at each property, not unlike airline pricing."
The tech advantage is becoming increasingly important for self-storage REITs to grow customers, optimize revenue, and build strong customer support. The days of the acquiring self-storage customers using the Yellow Pages is over, using technology to strengthen, grow and adapt the fundamentals of self-storage will be the key to continued growth and success.
When I travel back and forth to New York City, I rely on Uber almost exclusively. I have saved hundreds, if not thousands of dollars, by using Uber to book a ride from LaGuardia into New York City.
Another of my favorite apps is Hotels Tonight. If you have not tried this popular hotel booking tool, I suggest you try it – I have also saved thousands of dollars.
My favorite self-storage REIT is Extra Space (EXR), and when you finish reading this article you should have a better understanding as to why I'm attracted to this REIT, and the company's most powerful moat: technology.
Source:-seekingalpha