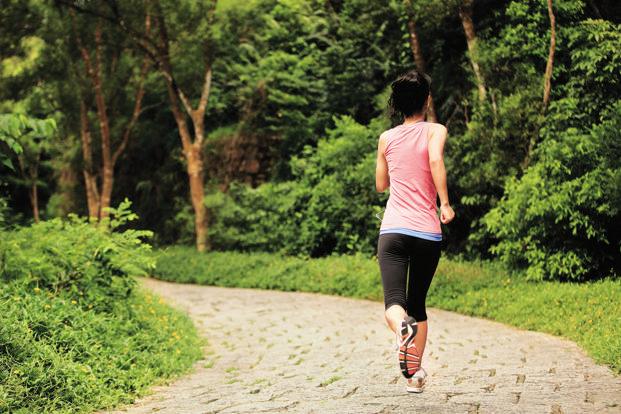 Last month, when model-turned-actor and one of India's most well-known faces for endurance sports, Milind Soman, went on his honeymoon, his Instagram timeline was continuously being updated with pictures of the couple in Hawaii. However, instead of the romantic honeymoon pictures, such as candlelit dinners and sunsets, they showed off their active lifestyle, with Soman posting pictures of running, yoga on the beach and eating avocados and berries for breakfast.
Soman may not be an ideal example as he represents extreme endurance sports. However, increasingly, fitness is not just about going to the gym three to four times a week. The vanilla gym goer, who spends ₹15,000-25,000 a year on annual membership charges, depending on which gym and city they go to, are a dying breed. They used to account for half of Talwalkars Better Value Fitness Ltd's business three years ago. Now, they account for less than one-third of the overall business, says Aditya Dhillon, head of operations at Talwalkars, which has over the years diversified from a gym-focused brand to a totalitarian wellness brand with services such as yoga and dance-based fitness programmes.
Fitness, today, is about a lifestyle. For someone who goes to the gym, it is about getting a nutritionist, a personal trainer and even incorporating functional training or perhaps a weekly spa into the routine.
For a runner, it is about being a part of a running community; about bonding with like-minded people who call eating spaghetti as carb-loading, and who prefer to meet over breakfast rather than drinks in the evening; it is also about tailoring holidays around events such as a marathon or a yoga camp in the mountains; or about having a cold pressed juice instead of a sugar-laden beverage.
On an average, Indians spend about $1 billion on gym memberships. The broader active living economy is much larger at $8-10 billion and is growing at about 30% per annum. It includes everything that contributes to an active lifestyle from buying sportswear and sports shoes to spending on fitness activities like running, gym memberships and yoga classes. Close to 70% of this market is concentrated in the top 10 cities, says Mukesh Bansal, founder and former chief executive officer of Myntra, India's largest online fashion retailer, which in 2016, had launched CureFit Healthcare Pvt. Ltd, a healthcare and fitness start-up that is already looking at a revenue run rate of $100 million in the next 12 months.
Even towns with populations of 500,000-1 million are gearing up. In the last two years, Gold Gym has expanded from 50 cities to 90 cities.
Even Talwalkars, which also owns brands such as Mickey Mehta, Zorba and Power Gyms, has 220 centres across 80 cities. Interestingly, when it comes to attendance, people in the smaller towns are more regular than those in larger cities, says Shraddha Sheth, vice president, sales operations and marketing, Gold Gym.
The change from unhealthy to healthy is happening within a span of 15 years.
Following India's rising middle class and disposable incomes, there has been a huge increase in lifestyle ailments, including obesity, diabetes and cardiovascular diseases. This has led to people changing their traditional behaviours from being reactive to proactive.
Unlike in the west, where millennials (defined roughly as those born between early 1980s and the early 2000) are driving the active living trend, in India it is the older demographic, people between the ages of 35 and 60 years, who are most committed to their health and lifestyle.
In chains such as Gold Gym, they account for 60% of the total base. Likewise for distance running, which includes half marathons and full marathons, 61% of the distance runners in India are between 30 and 50 years, according to a 2017 study, Decoding Marathons in India.
However, though the awareness level is higher in the younger generation, the spending power lies with the older consumer. This is the consumer who not only wants to be fit, but perhaps even belie their age. After all, some of our most visible celebrities are well into their 40s and 50s, and they are showing off their chiseled bodies and six pack abs. Moreover, thanks to social media they are even sharing their preferences for vegan or gluten-free diets. That is reason enough for the rest to follow.
Shop Talk will take a weekly look at consumer trends, behaviour and insights.
["Source-livemint"]