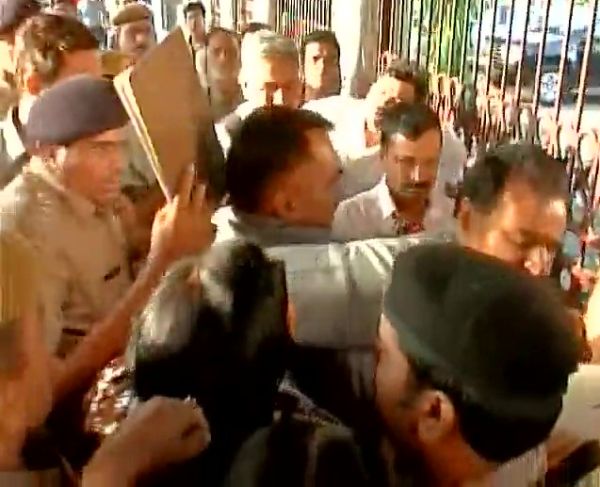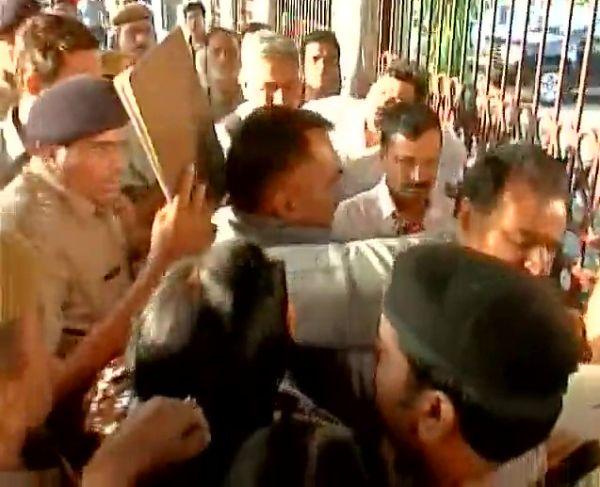 Activists of Bharatiya Janata Party Mahila Morcha on Thursday staged a protest against Arvind Kejriwal at the railway station in New Delhi, questioning his "silence" over expelled MLA Sandeep Kumar, with the Aam Aadmi Party alleging that the chief minister was manhandled during the "pre-planned" protest.
The activists led by Delhi BJP Mahila Morcha president Kamaljeet Sehrawat and party spokesman Praveen Kapoor raised slogans and waved bangles towards Kejriwal, who arrived at platform number 1 to board a train for Punjab around 7 am.
Some activists managed to come close to Kejriwal despite presence of policemen. They demanded that Kejriwal speak on the alleged "misconduct" of his MLAs and expel Ashutosh for his controversial blog defending Sandeep Kumar, who was sacked as minister over an alleged sex scandal.
Blaming Prime Minister Narendra Modi and the Delhi Police for the alleged manhandling of the chief minister at the hands of women protesters of the BJP, the AAP said the law enforcing agency was a "mute spectator" during the "pre-planned" episode.
BJP, however, denied any manhandling and said party activists resorted to political protest.
"It is sad and shameful that people who once talked of daily dialogue with people today term political protest as an attack," Kapoor said.
Sehrawat said the Mahila Morcha had recently met Deputy CM Manish Sisodia and warned him about the "gherao" of Kejriwal.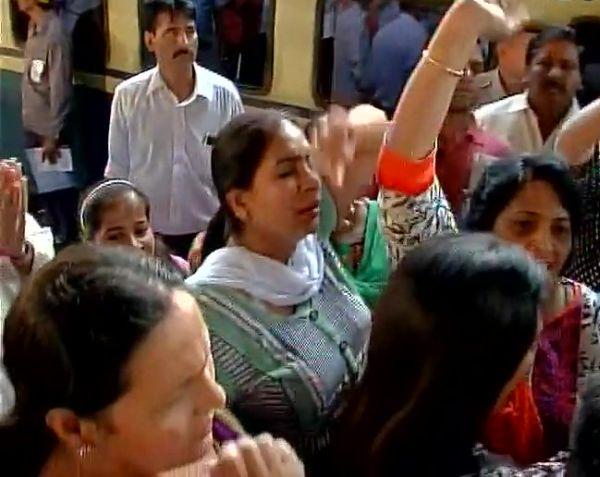 The AAP on its part wondered whether this was a conspiracy against the chief minister with Deputy Chief Minister Manish Sisodia questioning the reason behind the alleged lapse.
"Is Modi ji conspiring with the Delhi Police and the BJP to attack Arvind Kejriwal? Was the morning episode (manhandling of the CM) a rehearsal to it," Sisodia tweeted.
Senior AAP leader Sanjay Singh charged that the police first informed the BJP that Kejriwal would not be given any security cover and then got the Chief Minister attacked.
"Modiji's police first told the BJP (about its inability) to provide security cover and then got Arvind Kejriwal attacked. Is any conspiracy brewing against the chief minister," Singh tweeted.
The Delhi Police had on Wednesday turned down the request from Kejriwal's office to send security personnel to Punjab by road.
Kejriwal is on a four-day visit to poll-bound Punjab beginning on Thursday.
[source;rediff.com]