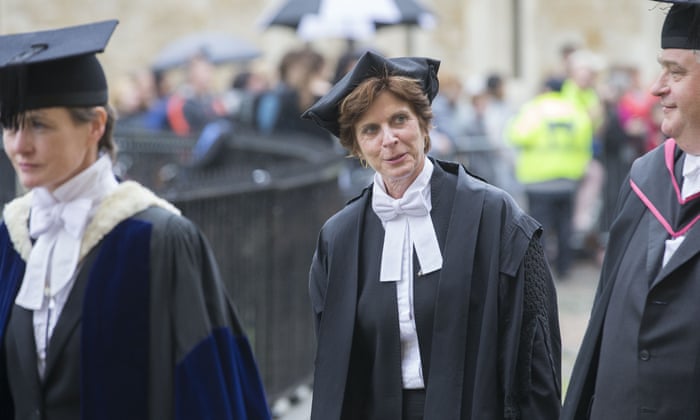 The vice-chancellor of Oxford University, Prof Louise Richardson, compared her pay with that of bankers. Photograph: David Hartley/Rex/Shutterstock
Government threats to fine universities that pay their vice-chancellors more than £150,000 without justification have been criticised for not going far enough.
The universities minister, Jo Johnson, told the annual conference of Universities UK (UUK) that "leadership and restraint" was needed, and that "exceptional pay can only be justified by exceptional performance".
Among the measures Johnson announced was a requirement that any university paying its vice-chancellor in excess of £150,000 must justify the salary as part of its condition of registration, with the new Office for Students (OfS) able to fine those unable to do so.
The average basic salary for a vice-chancellor is £234,000, according to government figures, with some earning considerably more.
Former Labour education minister Andrew Adonis, who has been critical of such high salaries, said the new proposals changed nothing. "Vice-chancellors can continue to receive their mega salaries so long as they write a letter to the regulator saying that they deserve them," Lord Adonis said.
'The government should introduce a cap of £150K immediately, with no exceptions, for all university staff and the saving should go into cutting tuition fees."
Labour's Gordon Marsden, the shadow higher education minister, said: "Astronomical vice-chancellor pay is a tough pill to swallow in the face of increasing financial burdens including the rising cost of student loans being placed on students.
"The announcements from the university minister today come following months of pressure from all corners of the higher education sector and the government's failure to address this issue.
"We will look carefully at the details of the proposed arrangements in consultation with the Office for Students to see what teeth, if any, this process has. In the meantime the government urgently needs to take a further look at transparency and disparity of salaries in this area to ensure students are getting value for money."
In his address to UUK, the umbrella body representing higher education institutions, Johnson said he had become increasingly vexed by the pay packets of vice-chancellors, which sit uncomfortably alongside growing student anxiety about rising tuition fees and mounting individual debt.
Finding the right benchmarks was essential, he said. Johnson took aim at Oxford University's vice-chancellor, Prof Louise Richardson, whose salary is £350,000, and who this week accepted her pay was high compared with academics but justified it by contrasting it with that of footballers and bankers.
ohnson told the conference: "I have heard in recent days one prominent VC noting she was paid less than footballers or bankers. If university managers want those kind of wages, they are simply in the wrong business."
Neither was the private sector a useful guide, he added. "No FTSE 350 business enjoys the certainty that the higher education system benefits from in knowing it has an uncapped flow of new customers coming to it each and every year, bearing £9,000 vouchers from the government."
Johnson also called on universities to "get a grip" on grade inflation, which was "ripping " through universities, and which would, unchecked, "undermine the reputation of the entire UK HE sector". Information about degree awards handed out by universities would be included in the teaching excellence framework (TEF), the newly introduced major assessment of higher education teaching standards, he said.
Marsden said Labour would examine the proposals in detail. "The important thing is that this process has teeth, and that is why I am saying you have to look at the small print. Jo just dashing off a speech at the UUK conference just isn't going to do the business."
He added: "This is very much a test for the OfS. Some people have said that the name is a misnomer, so this is an opportunity for the new Office for Students to show that they have got some teeth."
Responding to Johnson's speech, the NUS vice-president for higher education, Amatey Doku, said: "Transparency for pay over £150,000 only scratches the surface. We would like to see ratios between highest and lowest-paid staff as well as gender and race pay ratios being published.
"It is absolutely vital that there is a strong student voice at the heart of remuneration committees, and that any money saved through cuts to VC pay is channelled into student bursaries and widening participation, where it is so desperately needed."
Nick Hillman, director of the Higher Education Policy Institute, said the proposals added extra bureaucracy: "It makes it hard for the OfS to prove it fully recognises the one single most important thing that makes our universities world-class, which is their autonomy."
On vice-chancellors' pay, Hillman said, bad publicity would probably have caused a rethink. "Even without Jo Johnson's speech today, I suspect the remuneration committees which assess university vice-chancellors' pay would have done their work very differently this year than in the past."
Ryan Shorthouse, director of the independent thinktank Bright Blue, said the average increase and rates of vice-chancellor remuneration in recent years had been disproportionate and unjustifiable. "Vice-chancellors lead charities and public services; they should show some humility and stop taking advantage of generous contributions from both government and students. The government is right to use the levers it has to enforce restraint," he said.
["Source-theguardian"]