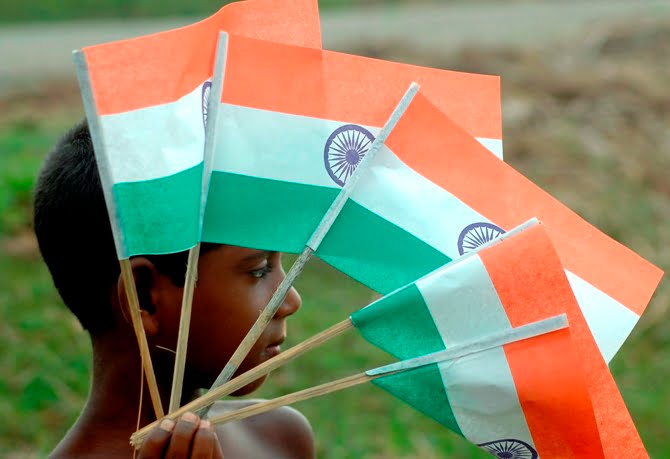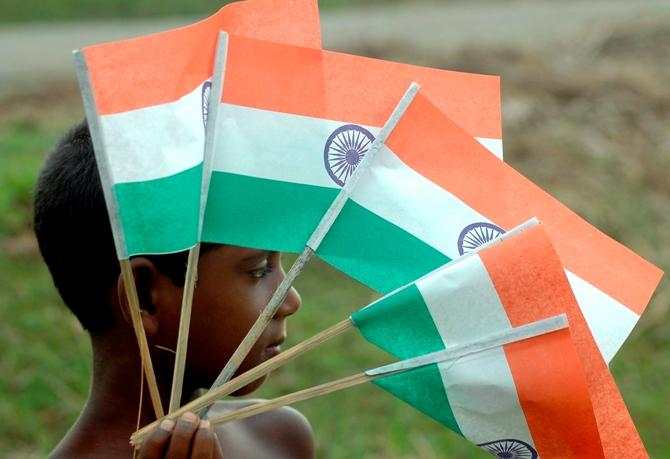 Ullhas P Revankar is eerily familiar with the surroundings of the New Ashok Nagar police station in New Delhi.
He has never committed a crime but visits to this cop shelter, tucked away in a clamourous corner of the eastern part of the capital, are alarmingly frequent. Officers greet him with coy smiles and unsure glances — for them, Revankar's arrival is a sign of imminent trouble.
His most recent visit to the police station saw him register a complaint against Sunny Leone. The actor's fault, according to Revankar: she pronounced the word 'Sindh' as 'Sindhu' during the rendition of the national anthem at a Pro Kabaddi League match in Mumbai.
Last year, he did the same against Amitabh Bachchan, after the veteran actor had sung the national anthem for more than 52 seconds — the approximate stipulated time for its completion — before an India-Pakistan T20 match.
His other targets in the past have included Virat Kohli — for sporting the Indian flag on his helmet — and boxer Vijender Singh. The Haryana pugilist likes to have the Tricolour embossed on his shorts, something that Revankar has raised objection to.
"We understand that he wants to raise awareness about such issues. But the moment he leaves, we are flooded with calls and visits from journalists. The real hassle starts only then," says an officer at the New Ashok Nagar police station.
Revankar, a Delhi-based short-filmmaker, likens himself to a social activist. "I started making short films with college students in 2007," says the 47 year old. "I slowly realised that I could impact other issues in an independent capacity."
In 2011, Revankar filed a public interest litigation to make it mandatory for all women pillion riders to wear helmets.
Two years later, during the Republic Day parade, Revankar made a shrewd observation: the Indian flag fluttering violently behind President Pranab Mukherjee had only eight spokes, as opposed to the 24 it should have.
Another PIL followed. In 2015, the Delhi high court — apparently drained of hearing his myriad pleas — asked Revankar to file a police complaint in all matters related to the national flag and the national anthem. Filing a PIL is taking the easiest route possible, the court observed.
"I'm not targeting celebrities. I'm just trying to raise issues of national importance. We are the ones who make celebrities famous, so we have every right to question them too," says Revankar defiantly.
While some appreciate his unique brand of benign intervention, others see it as a perfect example of avoidable idiocy. Legal experts, for example, question his bizarre stance on Indian cricketers using the national flag on their helmets.
"A bowler uses his spit to shine the ball. The same ball hits the helmet. Isn't that causing disrespect to the national flag," Revankar questions fervently. "The Pakistani bowlers must always be aiming for the helmet. They must be laughing at us."
More curious is the outcome of the complaints that are filed by Revankar. "There is no tangible change as such. But the next time someone sings the national anthem at a public function, for example, that person will be extra careful. He will be wary of the circumstances," says Revankar.
For his courteous service over the years, Revankar handed out a 'certificate of appreciation' to the station house officer at the New Ashok Nagar police station, pictures of which proudly adorn his Facebook page.
"Policemen always keep getting abused. I thought I should do something that would make them proud. They were really thankful," he says.
Meanwhile, others at the New Ashok Nagar police station are relieved. The domestic kabaddiseason is over; there will be no more playing of the national anthem for some time. But then Revankar has his eyes everywhere, and a visit to his favourite stomping ground is never too far away.
[source;rediff.com]