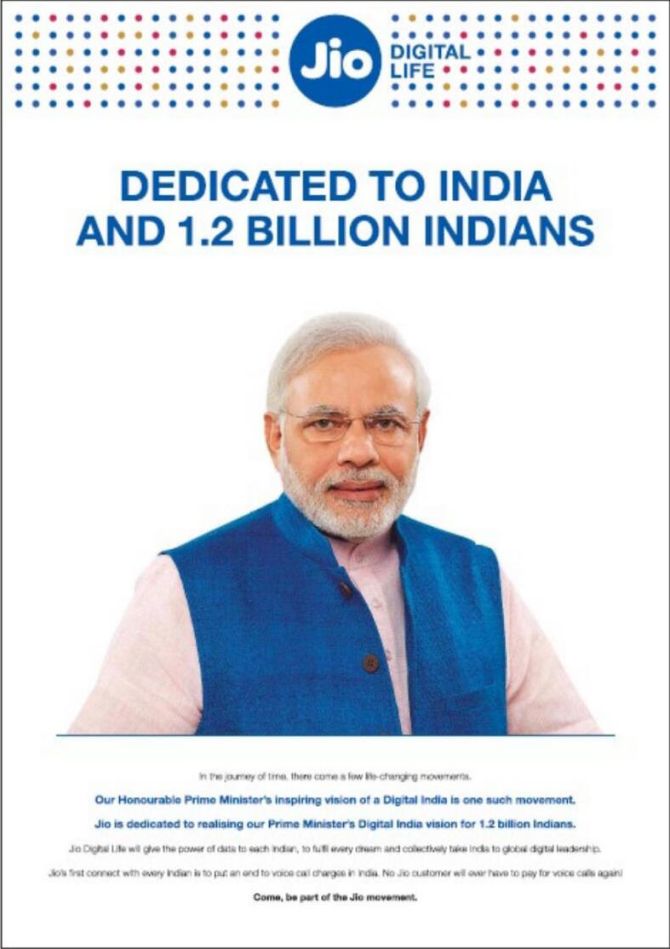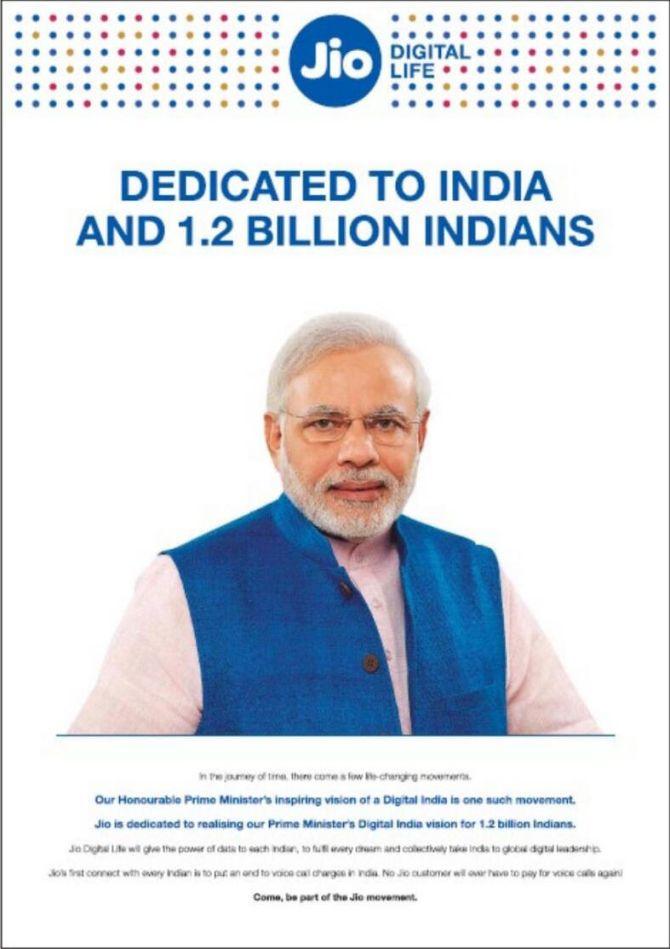 On Friday morning, readers of several news dailies woke up to a full front page advertisement with Prime Minister Narendra Modi, dressed in a blue jacket, staring at them from under the words "Jio: Digital Life".
On Thursday, Reliance launched its 4G plan — Reliance Jio — and dedicated it to prime minister's Digital India Campaign. "Our Prime Minister Narendra Modi's vision for Digital India is a life changing moment," he said. "Jio is a dedication to that Digital India dream of the Prime Minister, his vision for the 1.2 billion people of India."
However, the advertisement with the PM's face has not amused social media. In fact, it wondered if the usage of the image was even legal.
One Twitter user, identified as @ankitlal wrote, "@narendramodi has once again proved that he's a reliance stooge. Wonder why he can't do this for BSNL and MTNL."
Another tagging the front page of the national daily wrote, "The reason why people call Modi Sarkar as 'Suit-Boot-Ki-Sarkar'.
Popular Twitter user @rameshsrivats wrote, "Well, you do know that 'I'm Jio'd' is an anagram of Modi-ji."
Twitter user @pawankhera asked, "If Jio doesn't work as well as promised, will @PMOIndia be liable for action under celebrity endorsement law?"
And here's another one, "Other telecoms: Mere paas ideas hain, employees hain, capital hai.. Jio: Mere paas PM hai."
Even Delhi Chief Minister Arvind Kejriwal tweeted, "Any more proof required to prove that – Modi ji is Mr Reliance."
Social media user @gulrayys raised the issue that the ad was a clear violation of the law. "Front jacket of TOI for JIO ad carries Ho'n PM's Photograph. This clear violation of Names & National Emblems act which prohibits, such pic."
According to The Emblems And Names (Prevention Of Improper Use) Act, 1950, "No person shall, except in such cases and under such conditions as may be prescribed by the Central Government use… for the purpose of any trade, business, calling or profession… any name or emblem specified in the Schedule or, any colourable imitation thereof without the previous permission of the Central Government or of such officer of Government as may be authorised in this behalf by the Central Government."
The only exception is: "The name of pictorial representation of Mahatma Gandhi, Pandit Jawaharlal Nehru, Chhatrapati Shivaji Maharaj or the Prime Minister of India, except the pictorial use thereof on calendars where only the names of the manufacturers and printers of the calendars are given and the calendars are not used for advertising goods."
[source;rediff.com]