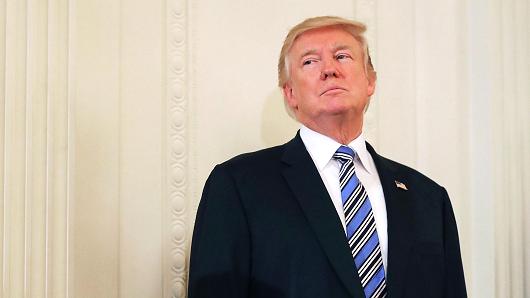 President Donald Trump is set to deliver a statement on health care at 3:15 p.m. ET on Monday, according to the White House.
Trump's statement will follow him participating "in a greeting with victims of Obamacare," the White House said in a news release.
The president offered an opinion on the state of the Republican attempt to change the U.S. healthcare system in a Sunday Twitter post.
Last week, the GOP effort to simply repeal Obamacare appeared to collapse after multiple Republican senators said they would not support the move.
That setback followed the replacement plan hitting a roadblock in the Senate.
Republicans hold 52 seats in the Senate, and passing a plan under budget reconciliation rules requires 50 votes, with Vice President Mike Pence breaking a tie. Sen. John McCain, R-Ariz., is away from the Senate recovering from surgery, so losing two votes or more will stall a Republican plan for now.
The GOP's effort to repeal and replace Obamacare, a Republicancampaign promise for most of the last decade, has stalled multiple times this year amid party divisions. The GOP chose to address the health-care overhaul before it took on tax reform, another key campaign plank, and every setback is seen as delaying the party's broader agenda.
Trump initially urged lawmakers to pass a repeal plan and then figure out a replacement later. Last week, the president told reporters that "we'll just let Obamacare fail."
["Source-cnbc"]