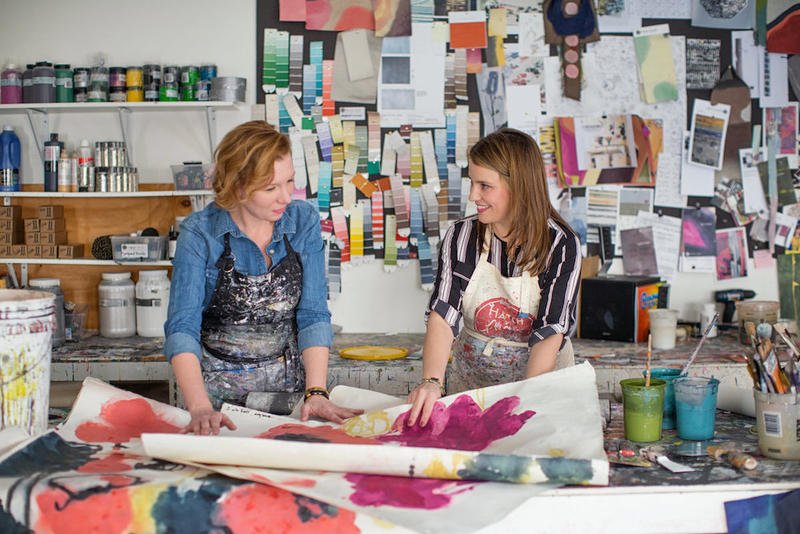 Real estate can challenge even the most optimistic souls. Browsing Zillow can be fun, but when it's your business, the stakes are a little higher—production, fulfillment, sanity.
Designer Bridgett Cochran and artist Kelly Porter, co-founders of the artisan wallcovering and fabrics studio Porter Teleo, found themselves at that pivotal point. "We had outgrown our space and started to look for a new one a couple of years ago and found the process kind of daunting," Cochran tells Business of Home. "And so, as creative people will do, we found creative ways to stay in our previous space probably longer than we needed."
Porter Teleo is a cult favorite in the industry. The Missouri-based brand is known for its stirring, graphic patterns—all handcrafted by a team of trained artists—and favored by clients like Kelly Wearstler, Alexandra Champalimaud and Robert Couturier. Handmade designs meant their studio needs were unique. "Printing" patterns is an artistic process as much as it is a specialized one. And given the fact that the collection features woodblocking, painting and Chine collé techniques, a 20-foot-long table is essential equipment. So is the right light, which Porter says is key for subtle details like mixing color and tweaking palettes.
With 11 full-time employees and a steady trade business from showroom partners like David Sutherland, the company's former 3,000-square-foot base in Merriam, Kansas, wasn't going to cut it. Their luck turned when their real estate agent showed them a place that hadn't yet been listed. "When we walked into this space, it was pretty immediate for both of us that something about the building and the way it was laid out felt really right. And we made a decision with just eye contact."
In January, Porter Teleo made the move to the 10,000-square-foot building in Kansas City. The space had a unique past, formerly a Three Dog Bakery location (purveyor of high-end dog biscuits) and a tobacco facility, where pipe tobacco was steamed, prepared and canned. Despite the randomness of those former occupants, the place was in good condition, and there were two major advantages.
The first came in the form of an unsexy but utterly enticing new roof—heaven for anyone who has gone through the costly emotional rollercoaster of replacing a commercial one. (Not to mention the mess and strain that kind of project would have on their artisan workshop.) The second feature was light. "The building had always been set up for production and for making things," says Cochran, "There are a lot of loading docks, a lot of garage doors, and big open warehouse space. That was great for us because we knew we could replace those with windows and get lots of light in here."
After leasing for nearly 14 years, the pair decided to buy the property. "I think it made sense to both of us to be spending money on something that would benefit both of us and our business and help solidify our financial position, personally and professionally," says Cochran. "I didn't see it as any riskier than decisions we were going to be making for our business and where it was going to be for the next 20 years anyway."
As the two joke about raising their "teenager" together (Porter Teleo is now 15), they also get real about the kinds of long-term discussions and planning triggered by property ownership. Mortality was one, since the bank requested life insurance policies. "Kelly said, 'OK, what if I die?'" says Cochran. "These are the hypotheticals you have to go through to make sure all those tricky situations are handled up front."
With additional tables and space, their new HQ allows for a more streamlined operation with distinct departments—graphics, administrative, sampling, shipping, packing and production. There's space for Porter Teleo's e-commerce venture, a line of unique, handmade creations, separate from its famed to-the-trade fabrics and wallcoverings. The new digs also boast an enviable 3,000-square-foot commercial photography studio, ideal for their own product and brand shoots, but it's also available to rent.
The decision to open the photography studio was rooted in the pair's desire to contribute to their artistic community. The building is located in the East Crossroads neighborhood of Kansas City, an enclave with artists, makers, galleries and award-winning restaurants. Talent attracts talent. "We wanted a creative space where there would be a good crossover of energy between what we're doing here and what's going on [in the community.] And we knew a photography studio was [in demand] in this area because there aren't a lot of available studios for lease, but there are a lot of talented commercial photographers [nearby]." Ron Berg, an established local photographer, has brought lots of people to the space to shoot—from advertising firms to independent creatives.

Can a piece of real estate change the trajectory of a design business? Absolutely.
Expansion in the immediate area was so natural—has Porter Teleo ever considered moving or expanding from the Midwest to the East or West Coast? Unlikely, they say. "It's kind of an outdated idea that great art and design only comes from the coasts," says Porter. "With the internet, social media and the connectivity that everybody has, it's much more possible for things that are truly unique to be found and noticed." Indeed, social media has become the industry's best lookbook.
Can a piece of real estate change the trajectory of a design business? Absolutely. Assessing the future of their firm, Cochran and Porter are looking to distribute their line in Europe and in preparation, they know production will necessarily increase. As with the photography studio and retail line, a larger facility means more opportunity. "It's another way to diversify ourselves and be able to get income from different sources and not just our one core line," says Porter. "For the last five years or so, we've been figuring out how to make sure we're diverse enough to protect ourselves if anything should change."
In lieu of a reliable industry crystal ball, the founders are making their own way, invigorated by their new space (and finally installing a Porter Teleo wallcovering inside the studio). "We've always managed to be fluid, and we want to be able to adapt based on our sales," says Cochran. "That's a big, good reason why we [acquired] this building: to be able to grow and not to be stopped by anything."
["source=businessofhome"]