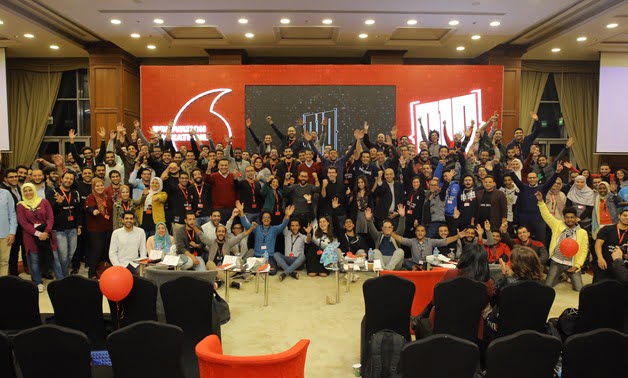 To align their strategic objectives after their 20th anniversary in Egypt, Vodafone hosted its first 010 Hackathon 2018 for three consecutive days, starting the 13th until the 15th of December, offering a unique opportunity for all young software developers in Egypt to come up with innovative ideas for a the chance to win valuable monetary prizes along with NanoDegree Scholarships from Udacity.
By hosting this, Vodafone has been identified as a strategic player in Egypt's digitalization movement integrate in the Egypt 2030 vision. The company called on software developers to participate in the competition including young professionals, engineering students and alumnus as well as programmers and developers from online communities, completing a rich and exciting environment for a Hackathon.
What is the Hackathon all about?
Teams of 2 to 5 members were encouraged to apply rather than individuals. They submitted their ideas using different technologies including Artificial Intelligence, Internet of Things, Agile development methodology, Robotics, and all relevant categories.
Vodafone filtered applications and picked the qualified 44 teams to join in for 3 days upon which 10 finalists were qualified to compete for the top 3 prizes.
During the closing ceremony, top 10 finalists presented the projects in front of a prestigious judging panel. This included Alexandre Froment-Curtil, Vodafone Egypt CEO; Mohamed Adbdallah, Enterprise Business Unit Director; Emad AlAzhary, Strategy Director; Karim Eid, C. Marketing Digital Director; and Amani Rabei, Vodafone Shared Services Director. Those in addition to Maha Rashad, CEO ITIDA, and Head of Technology Shared Services Egypt, Eng. Mohamed Sami
This exemplary panel of judges provided the participants with unprecedented critiques of their techniques, and strategic direction to grow their ideas to be implemented in the country for the benefit of their communities.
Winning teams
Helpee – 1st place
A platform that connects people with disabilities and volunteers who want to help them with simple daily tasks, founded by Sara Mahmoud, Abdelrahman El-Shorbagy, Anwar Aly, and Aya El-Kader. The platform is like an Uber service for volunteers to help people with disabilities in the community, and volunteering can be either paid, if it's an urgent request for help, or free of charge.
Robabekya – 2nd place
Founded by Salma Medhat, Ahmed Hisham, Ahmed Zaki, Amr Ahmed and Mohamed Hussein, Robabikya is a waste management mobile application that enables users to trade their trash for cash, giving them the opportunity get discounts on online shopping platforms and other services. During discussion Vodafone advised Robabekya to be renamed to 'Bikya'.
Paraztec – 3rd place
Paraztec is a 3-part system that aims to help alleviate obstacles for people with communication hardships (mainly paralysis and MS patients). The first system is a sensor-based glove to sense the patient's fingers movements and match them with a corresponding request from the patient. The second part is the PC application, which displays the request. It can also enable the patient to use the glove to write on the on-screen keyboard provided in it, while the third part is the mobile application which should be with the patient's overseer, and it will directly receive messages from the patient through the PC application in case he/she needs help. Paraztec team members are Mazen Kazem Mahmoud, Mahmoud Adel Mohamed, Ahmed Haris Ibrahim and Mohamed Ayman. And what is most impressive is that they are all HIGHSCHOOLERS!
["source=egypttoday"]