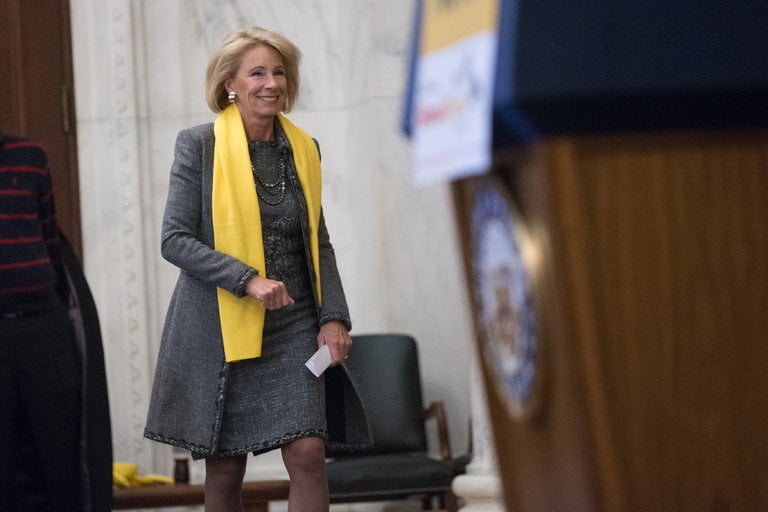 Betsy DeVos, the secretary of education, at an event in support of Nation School Choice Week on Capitol Hill in January. CreditErin Schaff for The New York Times
For a year now, Education Secretary Betsy DeVos has been trying to give away her $199,700 salary.
With every government-issued paycheck, which she pledged she would not take, the billionaire cabinet secretary grew more frustrated by ethics rules that restricted her ability to donate to charities in her official capacity.
But this week, after finally getting the go-ahead to donate in her personal capacity, she was able to call four organizations of her choosing to inform them they would evenly split the money: Kids Hope USA, a faith-based organization that connects mentors with schools that Ms. DeVos was long affiliated with, including as a mentor; the Special Olympics, the global sports organization for people with intellectual disabilities; Vision to Learn, a program that provides free eye exams and eyeglasses to students in low-income communities; and Dreams Soar, which supports girls in aviation and science, technology, engineering and mathematics fields.
For Ms. DeVos, the protracted effort to give her money away is illustrative of her first year in government: She struggles with bureaucracy. She has met opposition at every turn, but in a wide-ranging interview this week to mark the end of her first year as secretary, she said her agenda had not been derailed.
Ms. DeVos, a philanthropist and longtime supporter of private, parochial and public charter schools, remains unapologetic about the things that have made her a target of criticism. She still believes in parents' right to choose alternatives to neighborhood public schools, with publicly funded tuition vouchers if need be. She still believes the federal government should have a limited role in telling any school how to educate its students.
And she believes that what many thought disqualified her for the job — her lack of experience with public neighborhood schools, which educate the majority of the nation's students — has been an asset.
Continue reading the main story
"I don't know what can't be done," Ms. DeVos said. "And I come in with fresh eyes around all of these issues, and I think that questioning the way things have been done, and being able to look at things from a different perspective, is a good thing."
Here are five takeaways from a question-and-answer session Ms. DeVos conducted with a group of reporters about her first year in office.
1. She has not given up on expanding school choice.
Ms. DeVos has reeled in her rhetoric around a national voucher and charter-school initiative, and in recent speeches she has emphasized "rethinking" the way schools educate students across the board.
"I would say it's a broadening of the message," Ms. DeVos said. "When we talk about the need for innovation in education, it has to happen in every traditional school, it has to happen in every private school, it has to happen in every charter school."
Ms. DeVos called the expansion of 529 plans in the December tax law to cover K-12 expenses a "big win" for private and parochial school choice but agreed with analysts who said that the legislation was limited in its impact, especially for low-income students from families with limited means to save.
She signaled that she had settled for using her platform to champion the cause.
"There hasn't been a secretary that has talked about empowering parents and giving them choices before," Ms. DeVos said. "And I think that's a huge benefit, and frankly a privilege to do — to try to be a voice for many parents who don't have voices."
2. She is proud and pained by regulatory rollbacks.
Ms. DeVos said she believed that reducing the department's footprint had been "some of the most important work we've done in this first year." But she said that the most significant rollback thus far — Title IX guidance issued under President Barack Obama for investigating sexual assaults on campus — had been "probably one of the most heartbreaking parts of this job."
"As a mom and a grandma, I think about my children, and we need to get this right. We need to get it right for all students, and it clearly hasn't worked in far too many cases," she said.
Victims and advocates have said that Ms. DeVos's rescission of the campus sexual assault guidance, which she replaced with interim guidance that changed the standard of proof for investigations, has had a chilling effect on victims who are reluctant to report assaults.
"That would certainly be the last thing I would desire or want," she said. "I don't think that the interim guidance that we provided ultimately does that in any way."
Ms. DeVos said the department was still examining the Obama-era guidance that addressed the disproportionate impact of discipline policies and special education placements on minority students. Civil rights organizations have pointed to Ms. DeVos's re-examination of these policies as evidence of her lack of empathy for vulnerable populations.
"It's hurtful to me when I'm criticized for not upholding the rights of students," she said. "For not caring about students with special needs. Nothing could be further from the truth."
Ms. DeVos remains hard pressed to find an area where she thinks regulation is appropriate, but she identified enforcing civil rights laws and the Individuals With Disabilities Education Act as a critical role for the department.
3. She believes she is implementing the new federal education law, the Every Student Succeeds Act, with fidelity.
Ms. DeVos has faced criticism over her department's approval of state plans for implementing the Every Student Succeeds Act. Senator Patty Murray, a Democrat of Washington who was a chief architect of the law, said that Ms. DeVos had approved plans that do not account for the achievement of low-performing students, as the law requires.
"I'm only approving plans that comport with the law," Ms. DeVos said. "And I'm encouraging anyone who has been critical of me and/or the department on approval of plans."
Ms. DeVos declined to comment on the quality of specific state plans.
"I think, very honestly, there's lots of areas for continued improvement and a plan is nothing but a bunch of words on paper," she said.
4. She feels hamstrung by Congress.
Ms. DeVos's frustrations these days are directed at the body that confirmed her only with a tiebreaking vote from Vice President Mike Pence.
She said a major source of frustration had been the unfilled positions in her department. Five nominees await Senate confirmation, including her would-be deputy and the nominee to head the department's office for civil rights.
"We have many qualified, capable individuals waiting to come and contribute here and they're just messing around up on that building on the hill," Ms. DeVos said.
Ms. DeVos also expressed frustration with how much Congress controls the budget, which she said was an example of "how Washington doesn't work." It is also in the Constitution.
"If we were given a top-line number and were able to designate by our own priorities around line items, it would probably look somewhat different than what the budget looks like," Ms. DeVos said.
5. She plans to push experiential and personalized learning in K-12 and higher education this year.
Ms. DeVos has already begun stumping for initiatives that would give students different pathways to the work force, a mission President Trump has thrown his weight behind in calling for more "vocational schools."
Ms. DeVos said too many students were being steered toward a traditional college degree.
"I think personalized learning, competency, mastery, that's a big shift from where education has been," she said. "But it's absolutely where most of education has to go."
["Source-nytimes"]