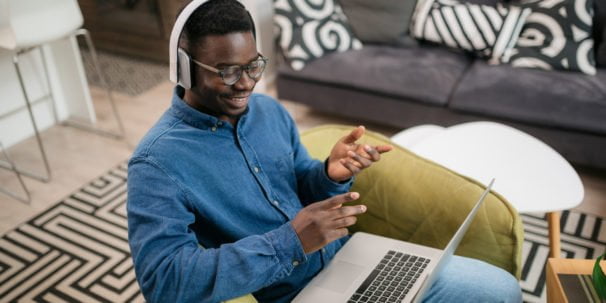 The field of teaching is a varied and often rewarding one. Helping learners discover their talents, develop their skills, and demonstrate their knowledge can be truly gratifying. One rapidly developing area of teaching is that of online English teaching. We explore how you can get into this discipline.
As well as exploring what's required of you and whether you're suited to the job, we look at some top tips for new online English teachers. We've also picked out some top courses for you and your students.
Why teach English online? 
Before we get into the tips on how to teach English online, let's first look at why you might want to do so. Below, we've highlighted some of the reasons why you should consider online English teaching:
It's rewarding 
Any form of teaching can be rewarding, and online English teaching is no exception. Helping learners to master a new language, reach their goals, and express themselves in new ways can be immensely satisfying.
You can make an impact 
Over 1.5 billion people around the world speak English. By using your expertise in this language to teach others, you can help to introduce them to a global community that speaks the same language.
When you're teaching online, you'll often get to meet people from a variety of different countries. As such, you can learn about the different cultures and ways of life from different perspectives. Not only do you get a chance to learn, but you can also share your culture with your students.
It's a booming industry 
Pandemic aside, the global need for English as a second language (ESL) teachers has been growing. As more people want to learn English, there is a greater demand for those who can effectively teach the language. Of course, the events of COVID-19 have forced many learners and their teachers online.
What's more, a report published by global research company Technavio shows that the global ESL market is expected to grow to $14.69 billion by 2024.
Am I suited to online English teaching?
If you're considering getting into online teaching, you might be wondering whether you've got the skills and knowledge to do so. Below, we've picked out some of the skills you need to teach English online:
Communication. As you might expect, communication skills are essential for this form of teaching. You'll need to be able to effectively convey information and concepts in a way that is suitable for non-native speakers.
Teaching. Again, you need to know how to teach your language to others. Whether through the right qualifications or through learning and experience, effective teaching skills are vital.
Digital skills. The fact you'll be teaching online means you'll need to know your way around a computer. You'll need the essential digital skills that allow you to connect with others online, often using a variety of different software.
Planning and organisation. Like any teacher, you'll need to organise your lessons and plan materials. Usually, you'll need to tailor your planning to different ability levels and learners.
Creativity. No two students are the same, which means you'll often have to get creative to come up with ways to convey information. The online medium gives you the freedom to think outside the box and craft lessons that are engaging and effective.
Language skills. As well as English language skills, you might find it's useful to have an understanding of the native language of those you teach. For example, if you want to teach English online to Korean students, you might want to learn Korean.