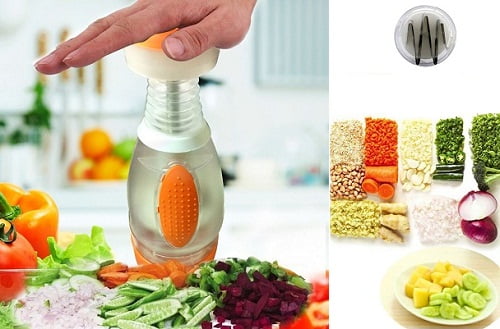 #1 Kawachi Chop N Grate – One tool for all your slicing, dicing, chopping and grating needs
Buy Kawachi Chop N Grate Mini Grater @ Rs 259
Prepare salads faster than ever with Kawachi Chop N Grate Mini Grater. It can slice, dice, chop & grate vegetables and fruits within seconds. Simply press the top to use the tool. Want to make it finer? Keep pressing the top till you get the desired results. It is easy to clean. It is useful for vegetables, fruits, dessert toppings, eggs, meat and so much more.
#2 Refrigerator Storage Shelves – Add more space to your refrigerator
Buy Refrigerator Storage Shelves @ Rs 375
Multiply the storage space in your refrigerator by using these refrigerator storage shelves. Just slide the shelf on to your existing shelf to create more space. These shelves are ideal to store left over food items in small quantities. Why invest in a bigger refrigerator when you can buy these shelves at a fraction of the cost!
#3 Kawachi Vegetable Chopper – Slicing and chopping is very easy
Buy Kawachi Magic Chopper @ Rs 299
Make salads, chop nuts, herbs, vegetables, boneless meat and more. Slicing and chopping is a mundane and boring job while cooking. Kawachi Chopper makes these tasks easy for you. Just pull the cord a few times to to chop/mince/blend your ingredients.
#4 Coconut Scrapper – Smartest way to grate coconut
Buy Coconut Scraper @ Rs 315
The heavy duty coconut scrapper along with sharp stainless steel blades makes scrapping coconut so easy and quick.
#5 Silicone Food Steamer – Enjoy a healthy meal
Buy Silicone Vegetable Steamer @ Rs 349
Want to lose weight or simply stay fit? Stay miles away from junk and oily food; switch to steamed food instead. Steaming vegetables is a healthy alternative to other cooking techniques. The benefit of steaming vegetables is that it does not take away the nutritional value if properly steamed. Use a silicone food steamer as it is the best way to steam vegetables. The entire steamer is made from high-quality, heat-resistant silicone, The finger guard enables you to lift the basket from a heated microwave or a frying pan. It has a large capacity when fully open. This silicone food steamer is compatible with both microwave and pans.
#6 Copper Water Bottle – Drinking water from a copper vessel has multiple health benefits
Buy Copper Thermos Water Bottle @ Rs 490 
Copper has the properties that improve your digestive system, fight bacteria, boosts the functioning of your brain, keeps you immune from arthritis and bone related issues, slows skin ageing and so on. Need we say more!
#7 Microwave Safe Cookware Combo – A cookware set for every modern household
Buy Microwave Cookware Set @ Rs 299
In today's time, there are a lot of recipes which can be cooked using a microwave oven. There is no need of a stove. If you love cooking, you can try out a new recipe every week or even every day by using a microwave. Most microwave ovens come with a standard container which is used for reheating purpose. Invest in the microwave cookware combo which can be used for proper cooking.
#8 Microwave Safe Containers – Keep your food intact
Buy Microwave Safe Containers + Scissors + Peeler + Knife @ Rs 229
Looking for the best quality food storage containers, these food storage container are your best bet. The strong airtight lids ensure that the food stored does not lose its nutritional value. The best part is that you can place these containers in a microwave oven to heat the contents as they are microwave safe.
#9 Kitchen Accessories Combo – A must have for every kitchen
Buy Kitchen Accessories Combo @ Rs 399 
This combo includes six knives, six spoons, one peeler and a couple of spice containers, dish washing scrubbers, a sprinkling container and a pair of scissors. This combo has everything you need in your kitchen on a daily basis.
[source;rediff.com]